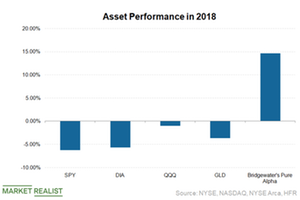 Why Ray Dalio Thinks a Recession Is Coming
By Anuradha Garg

Jan. 24 2019, Updated 5:15 p.m. ET
Recession fears
One of the key market questions on investors' and market participants' minds is if we will enter a recession in 2019 or 2020. As the US equity markets (IVV) joined the global slowdown in the last quarter of 2018, this question gained even more importance. China's slowdown is raising concerns of a global slowdown, while the US-China (FXI) trade conflict is only adding to the long list of worries.
Article continues below advertisement
Ray Dalio: Risk of a recession in 2020
During an interview with CNBC on January 22, Ray Dalio, the founder of the world's largest hedge fund, also offered his take on the matter. He said there is a "significant risk" of a US recession in 2020. Though he didn't get specific about the exact number, he said there is a high likelihood of a significant slowing in 2020. Moreover, he thinks the slowdown will be broad-based. Dalio added, "It's going to be globally a slow up. It's not just the United States; it's Europe; and it's China and Japan."
Bridgewater's outperformance in 2018
Dalio's view is in sharp contrast to his view a year back when he had mentioned at WEF 2018 that we will see a "market blowoff" rally. He had, however, warned that the Fed's rate hikes were the key risks for markets. This warning came true as the Fed's aggressive stance was one of the major factors for the market sell-off in the final quarter of 2018 when the S&P 500 (SPY), the Dow Jones Industrial Average (DIA), and the NASDAQ Composite (QQQ) fell 14%, 11.8%, and 17%, respectively. In contrast to the broader market's decline in 2018, Ray Dalio's Bridgewater Associates posted a gain of 14.6% in 2018. Unlike a lot of other hedge fund managers, Ray Dalio turned bearish on growth prospects in 2018. You can read How Ray Dalio Beat the Market and Peers in 2018 for more on this.
In the next part, we'll see why Ray Dalio is so worried about the next economic downturn.