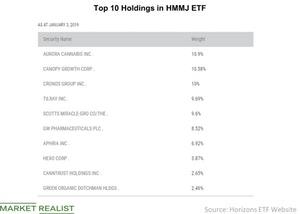 Here Are All the Bulls on Aphria
Irwin Simon's take
In a recent interview with CNBC, the new chair of Aphria, Irwin Simon, stated that Aphria has "incredible assets" in the form of a 2-million-square-foot production facility in Ontario and global licenses. However, Irwin D. Simon stated that Green Growth could be a strategic partner but not at the current offer. Now, let's look at the bulls on Aphria (APHA).
Article continues below advertisement
Horizons ETF
Steve Hawkins, president and CEO of the Horizons ETF, in a recent interview with BNN Bloomberg, stated that Green Growth Brands is taking advantage of the cannabis industry opportunity with its takeover bid on Aphria. The stock took a beating on the back of Hindenburg Research making Aphria look unattractive. The Horizons Marijuana Life Sciences ETF (HMMJ) owned about 6.9% of Aphria as of January 3 in the above chart. HMMJ's top holdings also include Aurora Cannabis (ACB), Canopy Growth (WEED), Cronos Group (CRON), and Tilray (TLRY).
Other backers
In our earlier series, we saw that GMP Securities upgraded Aphria to "buy" from "under review" with a target price of 14 Canadian dollars. The company was placed under review when the stock came under pressure due to its acquisitions in Latin America. GMP's recent optimism in Aphria came from its appointment of Irwin S. Simon as the independent chair of the company. The previous target price, before GMP Securities put Aphria under review, was 25 Canadian dollars.
On December 10, we discussed Citron Research's views on Aphria. Citron believes that the company's footprint in Canada is large. According to Citron, Aphria, which closed at 6.93 Canadian dollars, could reach a price of about 10 Canadian dollars, which would translate into an upside of nearly 44% from its close on December 8.
Later this week, Aphria (APHA) is scheduled to release its second-quarter earnings on January 11. Read Aphria's Earnings: Analysts' Expectations Next Week.