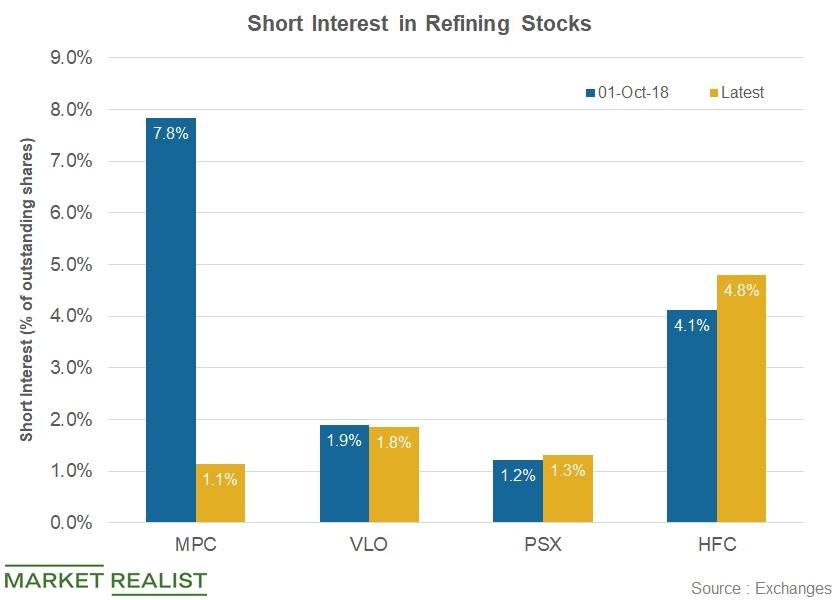 Has Short Interest in Refining Stocks Risen in Q4?
Short interest in refining stocks
Short interest (as a percentage of outstanding shares) in Marathon Petroleum (MPC), Valero Energy (VLO), Phillips 66 (PSX), and HollyFrontier (HFC) has put up a mixed trend since October 1, 2018. While short interest in Marathon Petroleum and Valero fell in the fourth quarter, it rose in Phillips 66 and HollyFrontier.
Article continues below advertisement
Short interest in MPC and VLO fell
Marathon Petroleum and Valero saw their short interest fall 6.7 percentage points and 0.1 percentage points, respectively, over October 1 to the latest levels of 1.1% and 1.8%, respectively. Usually, a fall in short interest means a reduction in the bearish sentiment in a stock. However, in the stated period, Marathon Petroleum's and Valero's stock prices fell 28.4% and 34.2%, respectively.
The sharp fall in Marathon Petroleum's short interest was likely the result of the completion of its Andeavor acquisition. The market's initial reaction to the acquisition news wasn't favorable and steered the stock's short interest to new highs just before the closure of the deal. On October 1, MPC completed the acquisition, perhaps resulting in the fall in its short interest.
Short interest in Valero fell likely due to the decline in RIN (renewable identification number) prices in the fourth quarter. Ethanol and biodiesel RIN prices fell 84% YoY and 59% YoY, respectively, in the quarter. The reduction in RIN prices could lead to cost savings for the company in the period, which could reduce the bearish sentiment in its stock.
Short interest in PSX and HFC rose
Short interest in Phillips 66 and HollyFrontier rose likely due to weaker refining cracks pointing toward lower margins and earnings for the companies in the fourth quarter.
In the next article, we'll review these refiners' forward valuations.