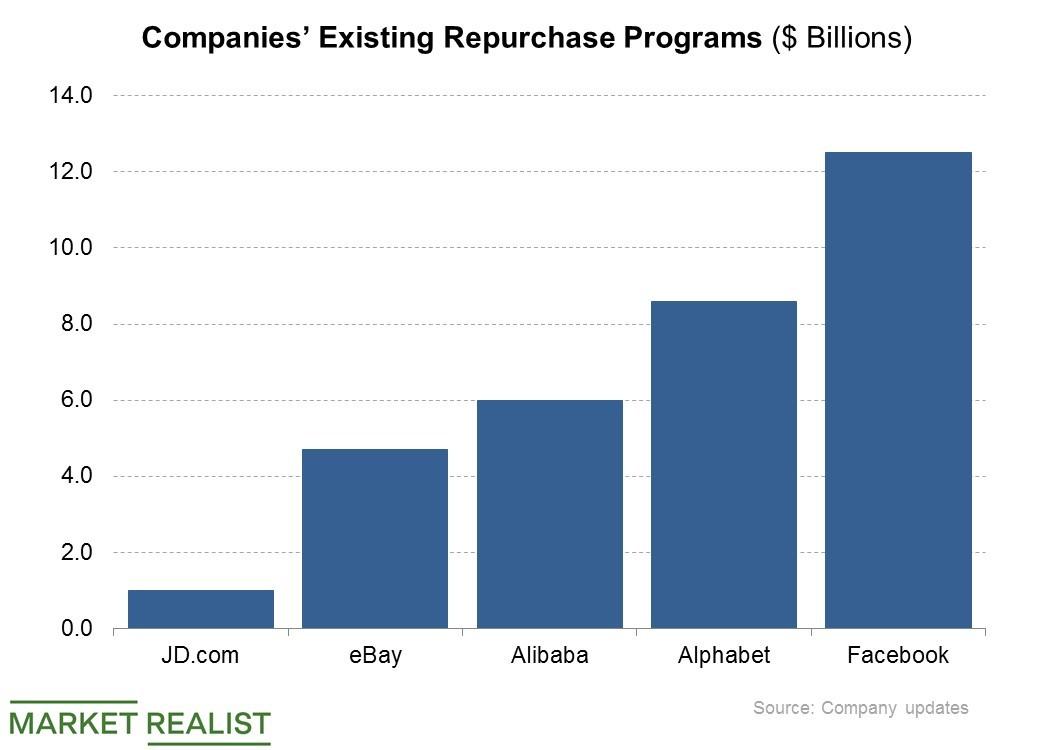 Facebook Boosted Share Repurchase Program
By Neha Gupta

Jan. 14 2019, Updated 10:30 a.m. ET
A $24 billion repurchase authorization
As Facebook (FB) prepares to report its earnings for the fourth quarter of 2018, we note that the company last month boosted its share repurchase program by an additional $9.0 billion. The increase brings the company's repurchase authorization since 2017 to $24 billion, considering that in April 2018 Facebook added $9.0 billion to its repurchase program, which already had a $6.0 billion authorization.
Facebook had $3.5 billion remaining in its previous repurchase authorization at the end of September 2018, according to the company's regulatory filing. Therefore, the latest addition means that Facebook now has $12.5 billion in its repurchase program.
Article continues below advertisement
Companies have lined up fat repurchase programs
Besides Facebook, other Internet companies that have lined up fat repurchase programs include Google parent Alphabet (GOOGL), Alibaba (BABA), and eBay (EBAY). In February last year, Alphabet announced an $8.6 billion repurchase program, and Alibaba is in the process of implementing its $6.0 billion two-year repurchase program. eBay had $4.7 billion remaining in its existing repurchase authorization at the end of September. JD.com (JD) recently announced a $1.0 billion repurchase program expiring in 2020.
Repurchasing 86 million shares
With $12.5 billion and the stock trading in the $145 range, Facebook could repurchase more than 86 million shares, or 3.0% of its outstanding shares. Since repurchases reduce the number of shares in circulation, they can lead to companies posting higher earnings per share without actually growing profits.