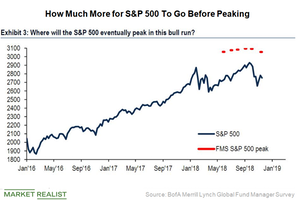 Do Fund Managers Think the Stock Market Has Peaked?
By Anuradha Garg

Dec. 4 2020, Updated 10:52 a.m. ET
Weak economic growth outlook
November marked the second straight month of investors' bearishness with 44% of them believing that global economic growth will decelerate in the next 12 months. This is higher than 38% of them believing the same last month. Both these levels are the highest since November 2008. Even the IMF has warned that growth is slowing in a number of economies around the world. It believes that investor sentiment could take a sudden turn for the worse. Higher US interest rates, a stronger US dollar, and financial market volatility were among the factors mentioned that could pressure emerging and developing markets.
Article continues below advertisement
While 16% of investors surveyed in October thought that the stock market has peaked, the number increased to 30% in November. Still, they expect the S&P 500 (SPY) to rise to the 3,056 level before peaking, which implies a solid 12% more to go. According to BAML chief investment strategist Micheal Hartnett, "We remain bearish, as investor positioning does not yet signal 'The Big Low' in asset markets."
China slows down
Also, a net 54% of the respondents forecast a Chinese slowdown, the most bearish level since September 2016. As the trade war between the United States (SPY) (VTI) and China (FXI) continues to escalate, China's growth prospects are expected to be more affected than those of the United States. The impact is also visible in the country's trade and economic data.
Silver lining
There was a silver lining in the survey, however, as fund managers' cash balances declined to 4.7% from 5.1% last month. This decline mainly implies that they bought into the October sell-off. The main beneficiaries of this buying seem to be REITs, US equities (IVV), emerging market equities (EEM), and healthcare, which saw the most sequential positive change in global fund manager positioning.
Allocations to the tech sector (XLK), on the other hand, dropped to the lowest level since February 2009 with only 18% of investors overweight in the sector. As we'll see in the next part of this series, despite allocations to tech declining, FAANG (Facebook, Apple, Amazon, Netflix, and Google) and BAT (Baidu, Alibaba, and Tencent) stocks remained the most crowded trade for the tenth consecutive month.