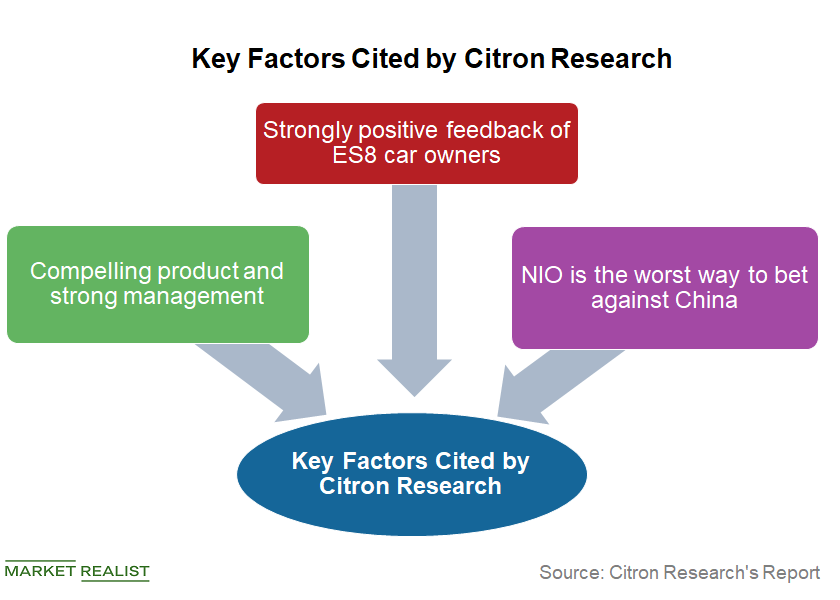 Citron Research Recommends a 'Buy' for NIO
NIO
In the previous part of this series, we looked at the recent stellar gain in NIO (NIO) stock. The company has risen 32.9% in November so far as of November 19. Now, let's move on by looking at Wall Street analysts' ratings on NIO stock.
Article continues below advertisement
Citron Research says 'buy'
On November 19, Citron Research recommended a "buy" on NIO with a price target of $12.00. This price target reflected a huge 53.1% upside potential from NIO's Monday closing price of $7.84.
As noted in Market Realist market strategist Joey Solitro's post on November 19, "Citron Research, founded by Andrew Left, is known as a short-selling firm, so its positive reports seem to catch the eyes of investors even more than its negative ones."
In its report, Citron highlighted that "compelling product and strong management combined with absurd short interest makes NIO the worst way to bet against China."
Citron also interviewed many NIO ES8 car owners to get their feedback and "to test the strength of the brand." The car buyers the firm interviewed had previously owned luxury brands like Porsche, Lexus, and Audi before shifting to NIO's ES8, and their feedback on ES8 was highly positive.
Wall Street's ratings on NIO
According to the data compiled by Reuters, 40% of the analysts covering NIO recommend a "buy" on NIO stock, while another 50% recommend a "hold." The remaining 10%, or one out of a total ten analysts, recommended a "sell."
However, analysts' consensus price on NIO stock was $7.87, which was much lower than the $12.00 suggested by Citron Research. By comparison (XLY), 57%, 19%, and 33% of analysts recommended a "buy" on General Motors (GM), Ford (F), and Tesla (TSLA), respectively, as of November 19. For Alibaba (BABA) and Baidu (BIDU), other Chinese companies, 97% and 75% of analysts suggested a "buy," respectively.
In the next part, we'll talk about NIO's upcoming ES6 launch event.