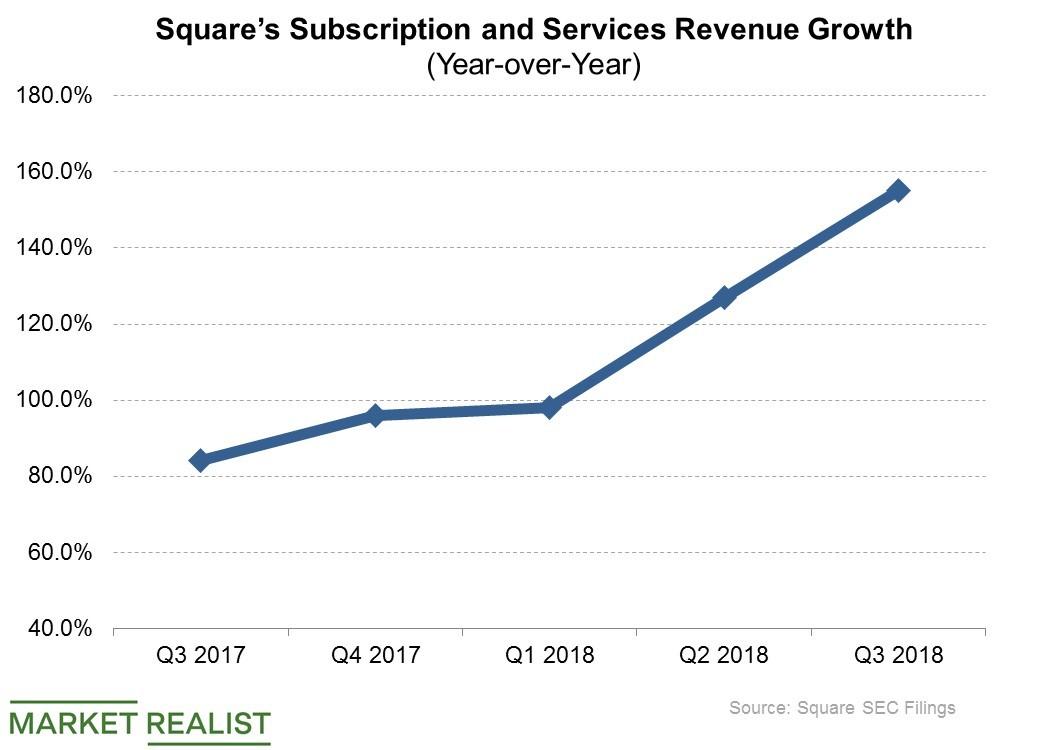 A Closer Look at Square's Fastest-Growing Segment
Subscription and Services growth accelerated
Square (SQ) operates three main revenue segments: Transaction, Subscription and Services, and Hardware. The Transaction segment is the largest of these segments, and it accounted for over 74% of Square's total revenue in the third quarter, but Subscription and Services is the fastest-growing segment.
In the third quarter, Square's Subscription and Services revenue rose 155% YoY (year-over-year) to $166 million, faster than its companywide growth of 51% YoY. Growth in the segment actually accelerated from 127% YoY in the previous quarter and 84% YoY in the previous year's quarter.
Article continues below advertisement
Caviar driving growth
Square's Subscription and Services segment houses a large number of businesses. Included here are restaurant food delivery service Caviar, money transfer service Cash App, and lending services Square Capital and Square Installments, with these businesses being the segment's main growth drivers. According to Square, its Caviar business is growing at a rate of 100% annually.
Square Capital is focused on business lending, where Square has an agreement to extend credit facilities to eBay (EBAY) sellers. The company wrote $405 million in Square Capital loans to more than 62,000 businesses in the third quarter.
Over $3.0 billion in business loans facilitated
Square has disbursed more than $3.0 billion in small business loans since 2014. PayPal (PYPL) and Amazon (AMZN) also make business loans and have disbursed $6.0 billion and $3.0 billion in such loans, respectively. Shopify (SHOP) has issued $375 million in cash advances to its merchant customers since 2016.
Square Installments is Square's consumer lending arm, which it launched in October.