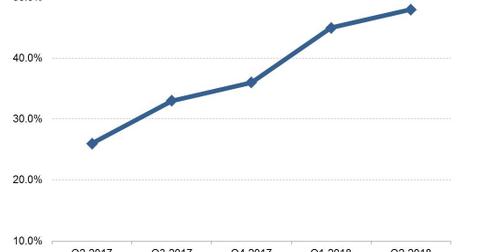 What's the Impact of the Weebly Deal?
By Neha Gupta

Oct. 18 2018, Updated 7:32 a.m. ET
Largest Square acquisition
Square (SQ) is on track to report what will be its first full quarter since it closed the deal to acquire website and online store builder Weebly. The transaction closed at the end of May. Square said it was paying ~$365 million in a combination of cash and stock for Weebly, its largest acquisition transaction to date.
Weebly operates globally and has millions of customers, of which 625,000 are paid subscribers, meaning customers who pay ongoing fees to use Weebly's array of services and tools to build websites and set up online stores for e-commerce activities. About 40% of Weebly's paid subscribers are outside the United States.
Article continues below advertisement
Square adds another source of recurring revenue
Weebly's charges start at $8 per month. In Weebly, Square has added a business that already generates revenue—recurring revenue at that.
When it announced the acquisition, Square didn't disclose how much revenue Weebly rakes in every quarter. Weebly's industry peers GoDaddy (GDDY) and Wix.com (WIX) reported revenues of $651.6 million and $146.1 million, respectively, in the second quarter. Magneto, another Weebly industry peer, which Adobe Systems (ADBE) recently acquired for $1.7 billion, made ~$150 million in revenue last year, implying $37.5 million in quarterly revenue.
Square's top line rose 47.8%
Square intended to tap into Weebly's customer base to drive sales of its hardware, software, and service offerings. Square's net revenue rose 47.8% YoY (year-over-year) to $814.9 million in the second quarter. Revenue rose 23% YoY at PayPal (PYPL) in the same period. As Square reports its third-quarter earnings results, investors will be looking for the impact that the Weebly deal is starting to have on its top line.