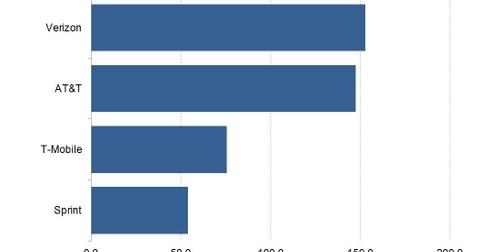 Shedding More Light on AT&T's 5G Delivery
By Ruchi Gupta

Updated
AT&T to supply packs to make service mobile
Unlike Verizon (VZ), which activated a fixed 5G (fifth-generation) network early this month, AT&T (T) is planning to launch a mobile 5G network in up to a dozen American cities in 2018. But how is that possible when 5G-enabled consumer handsets aren't available yet?
In a recent interview with CNBC, AT&T Communications CEO John Donovan shed more light on the company's initial 5G delivery strategy and how it will be different from Verizon's 5G Home service, which rolled out in four American cities early this month. According to Donovan, AT&T will provide customers in the covered markets with a pack that will let them experience 5G speeds wherever they go on their existing phones. It's a way to get around the challenge that 5G-ready phones aren't available today.
Qualcomm (QCOM), a leading supplier of mobile components, says 5G-ready consumer phones should start arriving next year.
Article continues below advertisement
Weak customer growth
AT&T finished the second quarter of 2018 with 147.3 million wireless customers on its network. That made it the second-largest US wireless provider behind Verizon. But AT&T did poorly in terms of customer acquisition. It added the least number of new postpaid customers in the second quarter among its main rivals Verizon, T-Mobile (TMUS), and Sprint. T-Mobile led the pack, gaining 1 million postpaid subscribers in that period.
But American wireless providers are generally competing in a saturated market where it has become more difficult to grow a customer base.
Extending 5G to the factory floor
Companies such as AT&T are betting on 5G to enable them to broaden their services and extend beyond the consumer market to the enterprise market to take advantage of trends such as an industrial Internet of Things where connectivity is brought to the factory floor. AT&T recently teamed up with Samsung (SSNLF) to explore an industrial application of 5G connectivity. It has set up a 5G testbed for that at a Samsung facility in Texas.