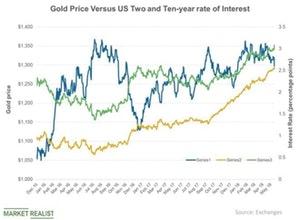 Is the Current Sell-Off a Blip—or the Start of a Downtrend?
By Anuradha Garg

Oct. 5 2018, Updated 4:35 p.m. ET
Blip or downtrend?
Whether the recent sell-off in the bond (AGG) and stock markets (SPY) (DIA) is just a blip or the beginning of a sustained downward rally will depend on the upcoming US economic data.
As we've learned, stocks saw a sell-off in February after stronger-than-expected wage growth data. If today's wage growth comes in on the upside, the markets could again go into panic mode. Investors will also be closely watching inflation numbers. A higher-than-expected pickup in inflation (TIP) could send bonds (BIV) and stocks (IVV) reeling.
The sell-off in equities could get an extra push from the current investor sentiment. Investors have long been wary that the current run in the US equity markets will eventually end, and the United States can't remain an island of growth for very long given faltering growth elsewhere.
Article continues below advertisement
Could it be a blip?
However, market participants have also been making arguments that the sell-off might just be a blip. In a tweet, Bill Gross, the "bond king" and manager of Janus Henderson Global Unconstrained Bond Fund, mentioned the pricing out of European and Japanese buyers of Treasuries (BND) as the main reason for the bond sell-off. However, he feels that a lack of foreign buying could put further pressure on Treasury prices.
Another argument is that the deadline for companies to contribute to their pension funds at a favorable tax rate passed in mid-September. Thus, Treasuries' (BLV) long-end liquidity has dried up. As reported by Barron's, according to a Deutsche Bank analyst, "As much of their buying was front-loaded, their purchases of long-dated Treasurys have thinned down to a trickle."
Data-dependent Fed and rates
Even if the recent sell-off was a blip, more data corroborating the Fed's data-dependent stance on raising interest rates could lead to further correction.
In the next article, we'll see what two bond titans, Bill Gross and Jeffrey Gundlach, have to say about the current sell-off in the bond market and its likely effect.