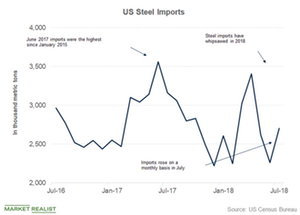 Why Trade Tariffs Could Strengthen China Globally
By Anuradha Garg

Updated
Are there unintended consequences to the trade war?
CLSA's head of economic research, Eric Fishwick, believes that the trade war between the US (SPY) (DIA) and China (FXI) could inadvertently encourage China to build its political and economic influence.
Fishwick noted, "It may well have the perverse reaction of accelerating China's attempts to move up the supply curve … to become self-sufficient (in) more and more high-tech products. And it will certainly encourage China in its moves to build more and more political and economic spheres of influence."
Article continues below advertisement
As far as the origin of the trade war is concerned, Fishwick said that the negotiations were kicked off as the United States was becoming uncomfortable with China's growing power. However, the unintended consequence of the United States' tariffs and sanctions is that China and Russia would need an alternative currency for transactions. China (YINN) is trying to promote the yuan as that currency and has been somewhat successful in that effort.
China and Russia's partnership
On September 11, Alibaba Group Holding (BABA) announced an e-commerce venture with Russian technology company Mail.Ru. The new company is called AliExpress Russia, in which Alibaba has a 48.0% stake. The joint venture between Alibaba and Mail.Ru is expected to play a crucial role in shaping China's trade landscape. The venture announcement came shortly after President Trump's announcement of the additional tariffs on Chinese goods.
China and Russia are considering 73 joint investment projects valued in excess of $100.0 billion. These events may not be beneficial to the United States, which would like to see China's global clout decline rather than increase with these partnerships.
Apple (AAPL) has also acknowledged that the tariff war would be more detrimental to the United States than to China. Huawei has already taken the second position from Apple in the global smartphone market.
China and Russia are forming a unified front to tackle the US tariffs and sanctions. Zhou Xiaochuan, the People's Bank of China governor, told CNBC that the US tariffs on Chinese goods would lead to a "substantial improvement" in relations between China and Russia. He added that massive US tariffs have made China look at other markets.
In this sense, China's relationships with Russia and the European Union (HEDJ) could see a noticeable improvement. The United States has already alienated some of its allies, and growing closeness between its two strategic rivals could weaken its position globally.