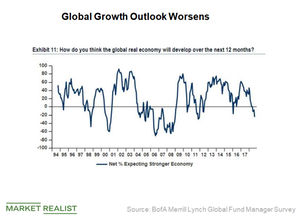 Rate Hike Could Impact US Equity Markets and Gold
By Anuradha Garg

Sep. 25 2018, Published 7:13 a.m. ET
Federal funds rate
The Fed sets the federal funds rate—the rate at which banks borrow from and lend to each other. By increasing the rate, the Fed expects to control inflation as borrowing money becomes more expensive, which impacts spending. Reducing the interest rates has the opposite impact.
Article continues below advertisement
Increasing interest rates impact companies. They have to borrow funds to run their day-to-day business and expand. Higher rates might deter some investment and increase the cost of borrowing, which could impact companies' earnings and stock prices. When rates increase, the future cash flows, which are discounted at a higher rate, aren't worth as much.
Rates and US stocks
In the past few years, one of the factors fueling US equity markets (SPY) (QQQ) has been cheap money. The end of easy money could put the brakes on the economy. The concern is echoed by a lot of market participants and experts. JPMorgan Chase's (JPM) CEO, Jamie Dimon mentioned in August that unwinding the Fed's unprecedented quantitative program could backfire on the economy or even spark a market panic.
Article continues below advertisement
US dollar and gold
In contrast to equity markets, the US dollar (UUP) usually gains as interest rates in the United States rise. Investors park their money in high-yielding US government debt, which entails buying dollars. The divergence in the monetary policies followed by the Fed and other central banks in the developed world also supported the dollar's rise.
Gold (GLD) and other precious metals come under pressure when interest rates rise. They don't yield anything in terms of regular income. As a result, their investment appeal reduces. The stronger dollar impacts them more. Read Why the Bottom for Gold Could Be Close for more on gold's price outlook in light of these factors.
As far as the Fed's September rate hike is concerned, a hike by 25 basis points is already priced in for most of the securities. The more important thing impacting assets will be the Fed's tone. While a more aggressive tone could cause US equity markets and gold to fall, a softer tone would have the opposite impact. Markets will be watching for any clues about the future monetary policy.