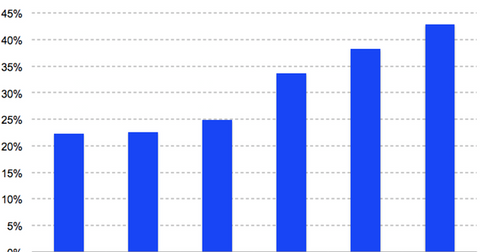 Is Amazon in the European Commission's Antitrust Radar?
By Sanmit Amin

Updated
European Commission and Amazon's third-party merchant data
The European Commission has been probing US technology giants for quite some time. Margrethe Vestager, the European Commissioner for Competition, has been concerned about the amount of data at US technology giants' disposals.
According to a report by Reuters, the European Commission is looking at how e-commerce giant Amazon (AMZN) uses data from merchants that use its marketplace. However, a case has not formally been opened. Companies found to be breaching the European Union's antitrust laws could be fined up to 10% of their global annual revenues.
Article continues below advertisement
The European Union has already slapped two huge fines on Google
The European Union is perhaps trying to figure out if third-party merchants selling on Amazon's platform are in an unfavorable position since Amazon is also selling its own products. As such, Amazon is in direct competition with some of its third-party merchants on its marketplace. In the last few years, Amazon has been aggressively expanding its own brand of products and selling them on its own platform.
Alphabet's (GOOGL) Google was fined ~$2.7 billion last year for abusing its market dominance. Google allegedly altered its search engine results to give priority to its European comparison shopping service, at the expense of smaller competitors.
Google was fined a whopping $5 billion this year for allegedly taking advantage of the dominance of its operating system.