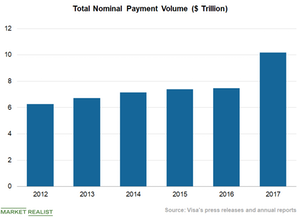 Buyouts and Partnerships to Expand Visa's Global Reach
By Anirudha Bhagat

Updated
Visa's inorganic growth
Visa (V) is making efforts to stay ahead in the payment industry, which is experiencing tremendous growth. The sector is witnessing a rapid shift in the mode of payments. It is anticipated that with continuously evolving technology and increasing mobile and Internet penetration, the industry will see further changes in payment modes. Therefore, to stay up with the trend and remain competitive, Visa is trying to enhance its global reach and capabilities through acquisitions.
Article continues below advertisement
Most recently in February 2018, the company acquired Fraedom. Through its software-as-a-service technology, Fraedom provides payments and transaction management solutions to financial institutions and their corporate clients. The company has clients across industries including financials, payment processors, technology, and governments. Therefore, the buyout is anticipated to bolster Visa's ability to meet the rapidly changing needs of the business-to-business (or B2B) industry. Additionally, the buyout of Visa Europe in June 2016 is considered to be one of the most important acquisitions for Visa. The integration of Visa Europe has helped it gain a competitive edge, expanded its footprint in the European region, and increased its scale. Since the purchase, the company has witnessed a significant rise in payments volume, cross-border volume, and processed transactions.
Strategic investments and partnerships
Apart from acquisitions, Visa also looks for strategic investments which it believes can enhance its capabilities in the future. In August 2018, it invested in Paidy, a financial technology startup in the payment space. Also, it invested in YellowPaper, a mobile payment pioneer, to accelerate its innovation in digital payment technology in May this year.
Furthermore, to enhance its offerings, Visa has entered into partnerships with several payment carriers such as On Deck Capital (ONDK), MoneyGram International (MGI), WEX (WEX), and Postmates, in the past few months.
By partnering with On Deck, Visa intends to utilize the latter's new Instant Funding feature for lines of credit for small businesses. Its partnership with MoneyGram is anticipated to help it gain market share in the cross-border remittance space.
Visa makes up ~6.3% of the ETFMG Prime Mobile Payments ETF (IPAY).