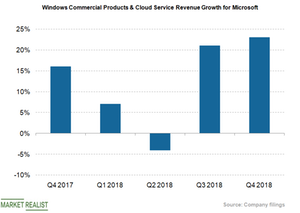 Why Office 365 Is Microsoft's Key Product
By Aaron Hemsworth

Sep. 4 2018, Updated 7:30 a.m. ET
A look at Office 365's business trends
Microsoft's (MSFT) Office 365 suites have dominated the enterprise application market, driven by higher adoption of the package. Office 365 is categorized into Enterprise E1, E3, and E5 versions based on its features. E1 is the lightest version, followed by E3 and E5, which have additional features and higher price points.
The chart above illustrates the revenue growth for Microsoft's Office Commercial products and cloud services in the last five quarters. In the last three quarters, these revenues have witnessed double-digit growth.
The company finished fiscal 2018 with ~30.6 million Office 365 Consumer subscribers. In this period, the tech giant added nearly 4.4 million subscribers, maintaining a monthly run rate of 1.1 million per quarter.
Article continues below advertisement
Identifying the key catalysts
Around 40.0% of Microsoft's (MSFT) subscriber base is below the E3 level, creating a huge opportunity for its ARPU (average revenue per user) growth. The company's premium Office E5 applications, which has more security features, may persuade its E1 and E3 users to advance to the E5 level. 
This growth in the E5 category may drive the company's ARPU. The deployment of the GDPR (General Data Protection Regulation) policy in Europe at the end of May may drive the company's E5 Office 365 suites in its international markets.
Microsoft's strategy to develop a one-stop solution by integrating Skype, analytics, OneDrive, and SharePoint with Office 365 may create a powerful tool for the company. This strategy could attract more enterprise subscribers and also drive recurring revenue growth. Moreover, all other products revolve around the Office 365 platform.
Office 365 product suites continue to gain from the company's Azure Cloud platform. Office 365 can be distributed to its clients through Azure, helping the tech giant expand its reach.
G Suite can be a headwind
Google's (GOOGL) G Suite is gradually narrowing the gap between its position and Office 365. Okta noted in February that G Suite saw 49.0% expansion among its 4,000 users in the year ended October 31, 2017, compared to 40.0% growth for Office 365 suites for the same period and an equal number of customers.