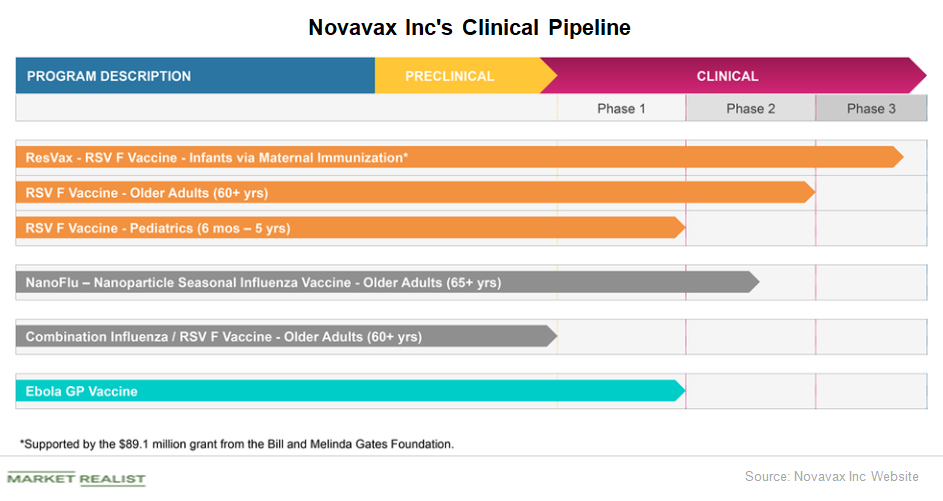 Novavax's Research Pipeline: Key Events to Keep an Eye On
By Kenneth Smith

Aug. 16 2018, Updated 1:51 p.m. ET
Research pipeline
Novavax's (NVAX) research pipeline primarily targets the respiratory syncytial virus (or RSV) and seasonal influenza. For the treatment of RSV, the company has identified three broad age groups: infants via maternal immunization, pediatrics, and older adults.
Novavax believes its RSV fusion protein nanoparticle vaccine candidate (or RSVF) offers a multibillion-dollar global opportunity. Currently, no approved vaccines for RSV exist on the market. According to Novavax, the global cost burden of the disease is over $88 billion, and every year, 64 million RSV infections occur across the world.
Article continues below advertisement
Prepare trial
In May, Novavax enrolled 4,636 pregnant women in its global Phase 3 clinical trial of ResVax, its RSVF vaccine for infants via maternal immunization. Novavax expects to report data from this trial in the first quarter of 2019 and subsequently to submit a biologics license application to the FDA by the first quarter of 2020.
Influenza
According to Novavax, every year, up to five million cases of severe illness and ~650,000 deaths occur due to influenza. Seasonal influenza vaccine growth in the top seven markets shows a potential increase from ~$3.2 billion in 2012–2013 to $5.3 billion by 2021–2022.
Novavax reported positive top line results from its Phase 1, Part 2 clinical trial of its seasonal trivalent influenza vaccine candidate, NanoFlu, in older adults in February. Novavax's NanoFlu was found to be well tolerated with an acceptable safety profile.
Novavax expects to commence a Phase 2 clinical trial of NanoFlu in the third quarter.