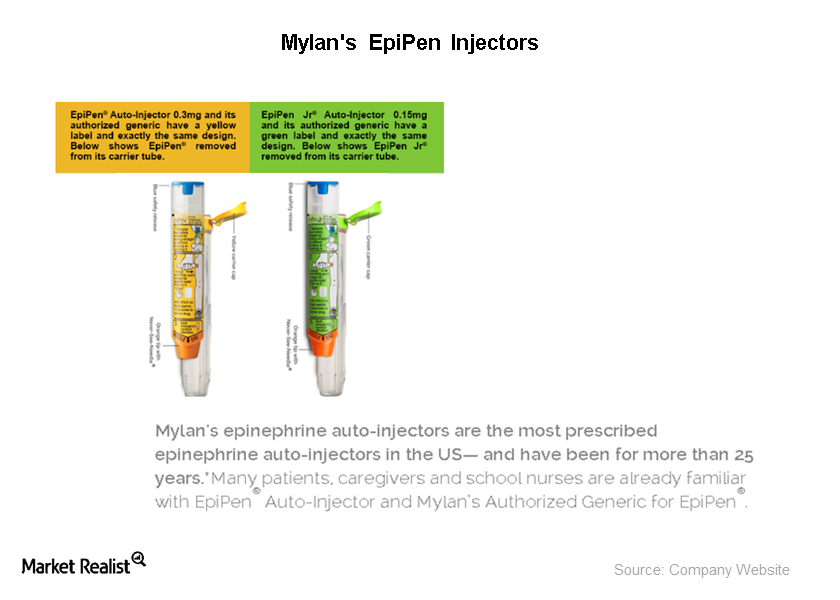 Mylan's EpiPen Supply Shortages Continue: What to Expect Ahead
By Sarah Collins

Nov. 20 2020, Updated 5:30 p.m. ET
Mylan faces severe EpiPen supply shortage
Mylan's (MYL) epinephrine auto-injector EpiPen is approved as the first line of treatment for life-threatening allergic reaction anaphylaxis. EpiPen has been witnessing declining sales over the last few quarters. The product sales declined in the second quarter as well, primarily due to the increased competition and supply shortages at its manufacturing partner Meridian Medical Technologies, a subsidiary of Pfizer (PFE).
During its second-quarter earnings release on August 8, Mylan provided an update on its EpiPen supply shortages. The company said that its manufacturing partner Pfizer witnessed manufacturing interruptions that it expects to result in an inadequate supply of Mylan's EpiPen injectors globally.
Mylan added that it is in regular dialogue with the FDA and other health agencies around the world and is exploring its options to stabilize its supply as soon as possible.
Article continues below advertisement
The alternative epinephrine auto-injectors available in the market include Kaleo's Auvi-Q, Adamis Pharmaceuticals' (ADMP) Symjepi, and Impax Laboratories' (IPXL) Adrenaclick. CVS Health also sells an authorized generic version of Adrenaclick. Novartis (NVS) has the commercialization rights to Symjepi in the United States.
Pfizer issues statement related to EpiPen supply
In a statement in early August, Pfizer provided an update on the EpiPen supply and said, "Meridian, a subsidiary of Pfizer that manufactures EpiPen® (epinephrine injection, USP) 0.3 mg and EpiPen Jr® (epinephrine injection, USP) 0.15 mg Auto-Injectors, continues to experience manufacturing constraints affecting U.S. supply.
"Pfizer takes very seriously the importance of EpiPen to everyone who needs it, and we are working tirelessly to increase production and expedite shipments as rapidly as possible. Currently, supplies will vary from pharmacy to pharmacy, and we cannot guarantee that product will be available at all pharmacies.
"We are actively exploring several options that would help stabilize supply. We will continue to provide updates, including timing for resolution, as we have them."
Next, we'll discuss Mylan's recent announcement of the creation of a strategic review committee.
Check out all the data we've added to our quote pages. Now you can get a valuation snapshot, earnings and revenue estimates, and historical data, as well as dividend information. Take a look!