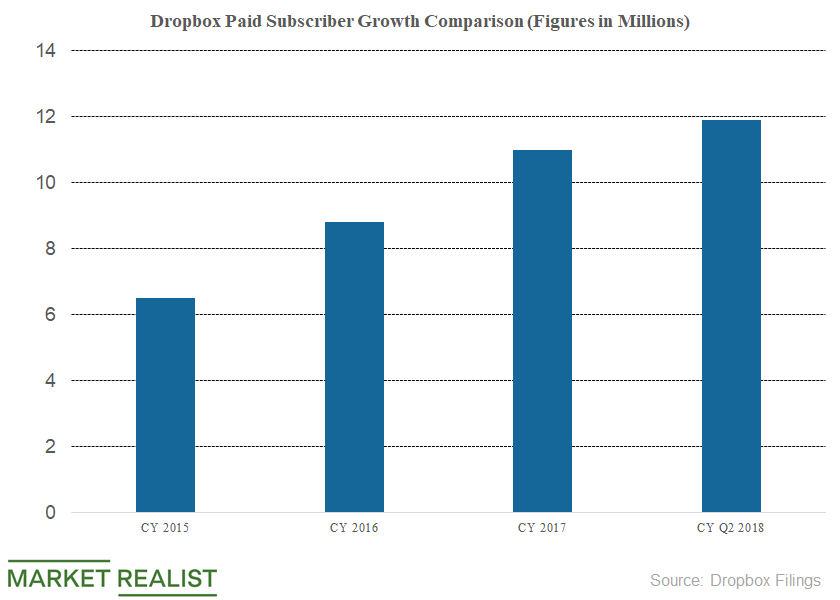 How Long Can Dropbox's User Base Continue to Grow?
By Adam Rogers

Aug. 29 2018, Updated 2:10 p.m. ET
Dropbox's paid user base rose to 11.9 million
In the previous part of this series, we saw that Dropbox's (DBX) paid users grew from 9.9 million in Q2 2017 and 11.5 million in Q1 2018 to 11.9 million in Q2 2018, which indicates growth of 20% YoY (year-over-year) and 3.5% sequentially. This quarterly rise of 400,000 subscribers led Deutsche Bank (DB) analyst Karl Keirstead to raise concerns over the declining growth for Dropbox's customer base.
According to Keirstead, the paid subscriber user growth was lower compared to earlier growth of between 500,000 and 600,000 users per quarter. While Dropbox has managed to grow its user base by 2 million over the last 12 months, it's below the user growth of 2.3 million paid subscribers in fiscal 2015 and fiscal 2016.
Article continues below advertisement
Dropbox's substantial user base
When Dropbox filed its IPO (initial public offering) earlier this year, the company stated that it has a user base of approximately 500 million. Further, Dropbox also stated that it identified 300 million users who are more likely to pay compared to other registered users.
While this figure indicates tremendous growth potential for the expansion of Dropbox's user base, the slowing growth experienced in Q2 is a bit confusing for analysts. Dropbox also competes with tech giants such as Google (GOOG), Amazon (AMZN), and Microsoft (MSFT) in the cloud storage space.
While these big players may be willing to burn cash and offer a cheaper subscription to attract customers, Dropbox cannot afford to do the same. Dropbox is looking to leverage AI (artificial intelligence) and machine learning capabilities to identify customers and match them with an appropriate subscription plan.