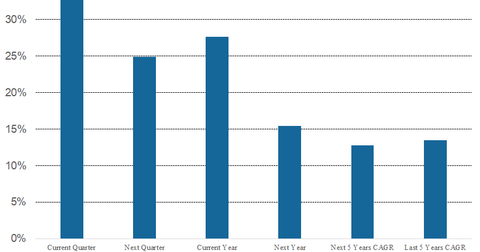 Berkshire Hathaway Continues to Increase Its Stake in Apple
By Adam Rogers

Updated
Investment now above $50 billion
According to the latest SEC filings, Warren Buffett's Berkshire Hathaway (BRK) owns 246.5 million shares of Apple (AAPL) as of the end of the second quarter. Its total investment is valued at ~$51 billion. Berkshire Hathaway has been steadily increasing its stake in the tech giant since 2016, when its investment was worth $1 billion.
At the end of 2016, Berkshire Hathaway increased its stake to 57.4 million shares worth $6.64 billion. It then increased its position to 133 million shares worth $17 billion at the end of February 2017. At the end of the first quarter, BRK held 165.3 million shares of Apple worth $27.7 billion.
BRK is now the third-largest Apple shareholder behind Vanguard and BlackRock.
Article continues below advertisement
Buffett would love to own 100% of Apple
Last year, BRK was the largest purchaser of Apple shares. In an interview with CNBC, Buffet famously stated that he would love to own 100% of Apple. BRK now has a 5% stake in Apple.
Buffett remains optimistic about Apple's long-term prospects. Analysts expect Apple's revenue to rise 16.3% YoY (year-over-year) to $61.14 billion in the fiscal fourth quarter and 14.9% to $263.5 billion in fiscal 2018. The company's revenue growth in fiscal 2019 is expected to be 5.1%.
Apple's EPS are estimated to rise at a compound annual growth rate of 12.8% over the next five years.