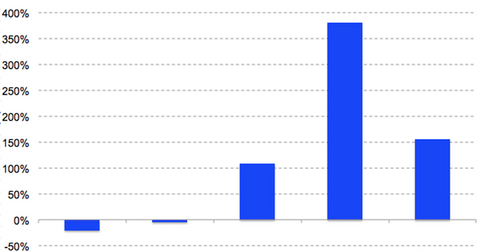 Why VIQ's Stock Has Surged Over the Last Three Years
By VIQ Solutions

Updated
VIQ Solutions
Access to professional transcriptionists with industry specific knowledge is a critical component of VIQ's aiAssist deployment and business success. VIQ will continue in the transcription industry through its document and transcription divisions while the parent company continues focus on designing and producing the SaaS human-to-machine collaborative solutions and platforms.
For VIQ it is essential that our AI services produce significant value and revenue by assisting humans to perform mundane, repetitive and detail-oriented work. Our AI offerings use multiple AI engines working on an audio interview and converting it to text. 
Article continues below advertisement
Through customers VIQ has access to over 300 million minutes of audio recordings.  Of those more than 120 million minutes of audio is available for applying advanced voice-to-text technologies.  VIQ's AI services provide these customers an efficient, fast and accurate solution for converting these voice recordings to documentation.  Additionally, with VIQ's AI services other intelligence value can be generated for decision support.  As the VIQ AI services penetrate these markets a growth spurt will result.
Our AI goes further than converting audio to text by providing a guide as to the areas where it had difficulty converting a sound. That allows the human to focus their effort on specific areas of the resulting transcript, without having to review the entire document (which is the norm today), with substantial efficiency improvements over traditional methods.
That means the human is still the primary content verification processor and the AI is merely a tool to assist, instead of the other way around. Our AI focuses humans on what they do best – confirming errors and correcting them, so the AI component learns and allow VIQ customers to increase efficiencies, productivity and scale to higher volume with less demand for rising labor costs, while increasing revenue.
Market Realist
While human input is still a critical step of the transcription process, VIQ's (VQS.V) AI technology drastically reduces the required human effort and time, notifying the user when it was unable to perfectly convert speech to text.
VIQ's ever-improving AI engine, vertical-experienced staff, and key acquisitions have caused the stock to surge over the last few years, as the graph above shows. Since September 2015, the company's stock has risen by a massive 380%.
The stock is currently trading at 0.24 Canadian dollars. VIQ remains confident that its stock is undervalued and will keep rising despite a 28% decline since October 2017. The company currently has a market cap of around $39 million.