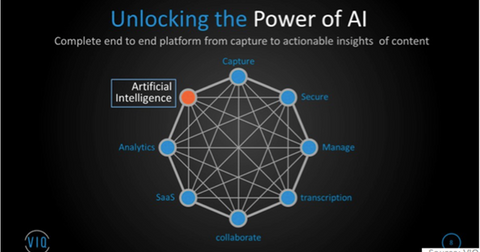 Why VIQ's NetScribe Platform Is So Convenient
By VIQ Solutions

Updated
VIQ Solutions
Looking back at the cost and effort to deliver diversification and value to our shareholders in terms of clients for our NetScribe Web and aiAssist services and drive our SaaS volumes, VIQ made a very strategic decision. A complementary company and their diverse customer base acquired in 2015/2016 enabled a transformation, customers needed, with significant growth opportunities in customers and business. Growth was accelerated by the addition of hundreds of clients in two years which provided access to rich digital content.
In mid-2017, VIQ established the need to develop a web-based platform with secure Cloud storage for a transcription workflow engine to address needs in our transcript business but also for enterprise customers with significant regulated transcript needs. That along with the previous acquisition drove the need to offer an easy to use browser-based transcription engine and workflow process. Thus, VIQ's Cloud-based NETSCRIBE platform was developed and is now in implementation with several of major customers.
NetScribe is a SaaS platform with secure storage. It is a multi-tenant platform designed to run a business with transcription needs or scale to a global transcription business.
The key is that the only components required locally are a browser, internet access and an account. No other installation, setup, or implementation is required. NETSCRIBE Web integrates transcription workflow, AI processing, eCommerce and billing components.
VIQ's NetScribe platform blends both human and AI resources targeting efficiency gains of 30%-50% by eliminating manual processes by up to 50%. Our brand of AI assists the human editor by providing clear results of voice to text conversion allowing the human to focus only on areas that produced questionable text. Thus, enormous human effort re-reading what is correct is saved. NetScribe with the aiAssist add-on delivers an engine producing a high-accuracy first draft, reserving human editor time for difficult transcriptions.
Market Realist
The NetScribe web-based transcription technology lets clients control their transcription needs securely, like VIQ's (VQS.V) other platforms. NetScribe has helped VIQ improve sales, given its improved transcription efficiency.
VIQ's acquisition of transcription companies like S&C means these companies provide VIQ their huge repositories of data. An added and probably critical advantage is that, every time those companies listen and manually transcribe in the field they work for, they automatically train VIQ's aiAssist engine.
So, every time VIQ acquires a transcription company, it gets access to more data crucial to its AI's development. Also, as the acquired companies run their data through NetScribe, VIQ's AI engine incrementally improves.
VIQ has already enlisted transcription companies like S&C, Allegis Transcription, EZDI Healthcare Data Intelligence, and DigiScribe Asia Pacific. As a result, VIQ's AI engine has ever-increasing access to data from various fields.