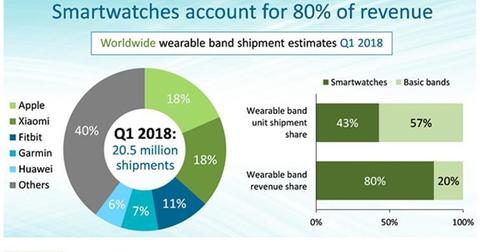 Why Apple Gives Employees Standing Desks
By Ruchi Gupta

Updated
Sitting is the new cancer
At Apple's (AAPL) new headquarters, Apple Park, one of the perks available to employees is the ability to use a standing desk. In a recent interview, Apple CEO Tim Cook said the company has given all employees at its headquarters standing desks. So employees can alternate between sitting and standing while at work. For Apple, supplying standing desks is a great way to contribute to employees' better lifestyles.
While speaking at a Goldman Sachs (GS) technology and Internet conference in 2015, Cook said a "lot of doctors think sitting is the new cancer," according to a Guardian report.
Apple Watch also functions as a fitness device
Apple makes smartwatches that also function as fitness devices. The Apple Watch, for example, can remind a user to get up and move if they have been sitting for too long. Many Apple employees use the Apple Watch. Apple shipped 3.8 million smartwatches in the first quarter for an 18% share of the market. Fitbit (FIT) commanded an 11% share of the smartwatch market in the first quarter, according to Canalys.
Improving talent retention
Encouraging a healthy lifestyle by supplying standing desks for employees could help Apple create a more motivated workforce that gives their best to the job. Also, being seen as a caring and responsible employer could help Apple boost its talent retention. As Apple diversifies into new business areas such as building smart speakers and selling digital music and magazine subscriptions, the company needs to hold on tightly to its star talents to ensure that its new projects succeed.
Apple has sometimes become the recruiting ground for companies looking for top-notch talents. Ford Motor (F) and Tesla (TSLA) are among the companies that have hired past Apple employees.