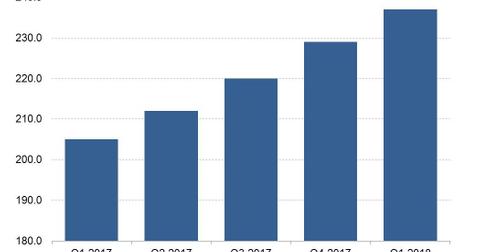 PayPal Buckling Down to Face Its Main Competitor
By Neha Gupta

Updated
Persuading people to abandon cash
PayPal (PYPL) is eliminating fees on euro transfers between friends and family for its customers in Ireland, the Irish Times reported on June 14. The company previously charged a 3.4% fee for such transactions. The aim of discontinuing these transfer fees on transactions between friends and family is aimed to encourage people to use its service instead of cash. In an April CNBC interview, Sri Shivananda, PayPal's CTO, stated that cash is its main competitor.
Ireland joins France, Spain, and several other countries where PayPal has moved to eliminate fees on payments to friends and family. Eliminating or reducing costs of making online payments could persuade more people to abandon cash and draw them to digital payment services.
Tackling Square
In addition to tackling cash competition, PayPal's move to eliminate fees on payments between friends and family for its Irish customers could also be a way to challenge Square (SQ), one of its rivals. With its Cash App for peer-to-peer transfers and card readers that allow any trader to accept card payments, Square is beginning to give PayPal tough competition in the payment processing market.
Although Square services aren't available in Ireland yet, they are available elsewhere in Europe. PayPal may be taking steps to challenge Square when it arrives in Ireland.
PayPal reaches 237 million active customers
PayPal notes that it has 237.0 million active customers globally, and it generated $3.7 billion in revenues in the first quarter—an increase of 24.0% YoY (year-over-year). Square's revenues rose 45.0% YoY in the quarter. Amazon (AMZN), eBay (EBAY), and Western Union (WU) saw their revenues jump 43.0%, 12.0%, and 6.7% YoY, respectively, in the first quarter.