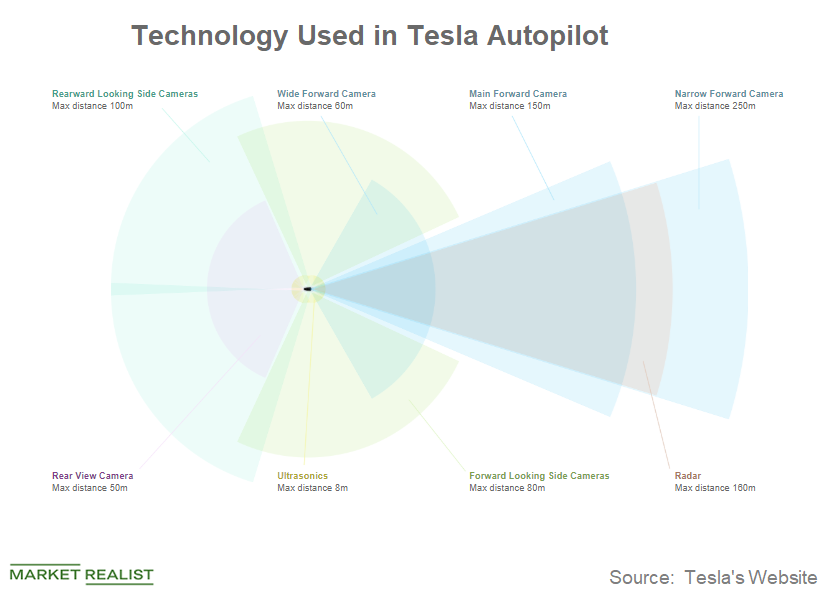 How Tesla's Autopilot Stacks Up against Its Competition
By Jitendra Parashar

Nov. 20 2020, Updated 4:25 p.m. ET
Autonomous vehicles
In the last few years, the race to build reliable and safe autonomous vehicles (or AVs) has intensified among mainstream automakers. Recently, General Motors' (GM) AV arm, GM Cruise, attracted an ~$2.3 billion investment from Japanese investment giant SoftBank. 
Fiat Chrysler (FCAU) expanded its partnership with Alphabet's (GOOGL)(GOOG) Waymo. US electric carmaker Tesla (TSLA) has also been working to rapidly improve its Autopilot system.
Article continues below advertisement
Tesla's Autopilot updates
In the week ended June 8, Tesla rolled out an update for its Autopilot system in its vehicles. Some users expressed concern regarding the discomfort they're facing with the new update, as they're receiving more notifications to keep their hands on the steering wheel.
Tesla is the only automaker (XLY) to state that its vehicles have hardware capable of fully autonomous driving. However, Tesla's claim has been attracted some criticism. According to a report by the Sydney Morning Herald, GM's director of autonomous vehicle integration, Scott Miller, stated, "To think you can see everything you need for a level five autonomous car [full self-driving] with cameras and radar, I don't know how you do that."
A recent report by Navigant Research suggested that Tesla is lagging automakers including GM, Ford (F), and Toyota (TM) in the autonomous vehicle sector.
Tesla's claims continue
During its annual shareholder meeting on June 5, Tesla's CEO, Elon Musk, called this Autopilot update "quite a significant improvement." Musk added that "the reliability and capability of Autopilot will increase exponentially over the next 6 to 12 months."
Tesla's current technology relies on ultrasonic sensors and high-definition imagery to detect obstacles in the path of the car. This technology is unlike most other automakers, which primarily use or test LiDAR (light detection and ranging) sensors for vehicle automation.
It's difficult to conclude which technology could be the most reliable for future AVs. However, Tesla already collects real-time data from its vehicles' Autopilot systems, which could give it an opportunity to improve its AV system more effectively than its competitors.
Next, let's see what we can expect from Tesla's Q3 2018 and Q4 2018 financials.