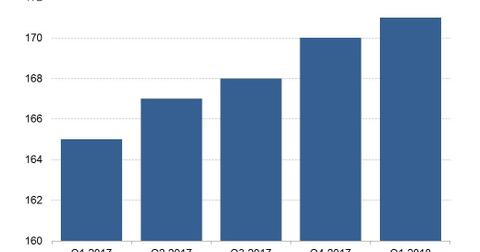 How eBay Is Trying to Attract Younger Shoppers
By Neha Gupta

Updated
JD.com reaches over 300 million shoppers
While Amazon (AMZN) is exploring checking-account-like products aimed at younger shoppers and customers without bank accounts, eBay (EBAY) is working on its own ways to attract younger shoppers. eBay is adding more home goods and apparel to appeal to younger shoppers and women, according to Bloomberg.
eBay is also leveraging technology to improve customers' shopping experience as it looks for ways to boost sales and improve customer retention. The company reached an average of 171 million shoppers globally in the first quarter. Alibaba (BABA) exited the first quarter with 552 million shoppers, while JD.com (JD) had 301.8 million shoppers on its platform at the end of the first quarter.
Personalized shopping suggestions
To improve customer experience, eBay is utilizing artificial intelligence technology to personalize shopping suggestions for its customers. The company asks shoppers to take a simple survey to get a sense of their passions, hobbies, and style. It then uses the insights to recommend products for shoppers as well as customize their homepage.
Target outpaced eBay in online sales growth
With Amazon continuing to sweeten its Prime program and Google (GOOGL) empowering legacy retailers like Walmart (WMT) to expand online, eBay faces increasing competition in its e-commerce business. So appealing to younger shoppers and improving customer experience could help the company pull more customers and at the same time improve customer retention.
While Walmart and Target (TGT) grew their online sales by 33% and 28% YoY (year-over-year) in the first quarter, eBay's revenue rose just 12% YoY.