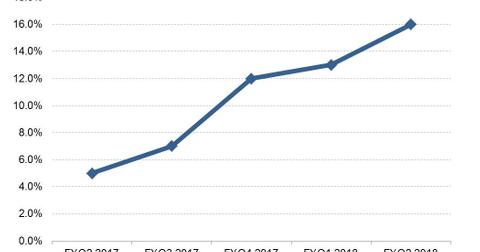 How Books Business Fits into Apple's Growth Strategy
By Ruchi Gupta

Updated
Apple fined $450 million over alleged e-book scandal
Apple (AAPL) has created a reimagined digital book reader app that it hopes to release in the coming months. But Apple Books, as the revamped e-book reader is called, represents the revival of a business that caused Apple to be fined $450 million in 2016 over claims that it conspired with publishers to raise the prices of digital books.
However, Apple is eager to drive revenue growth, and selling digital books presents an enormous opportunity despite past setbacks such as the fine. Over 160 million digital books are sold annually worldwide, according to PubTrack Digital data that show that 162 million digital books were sold last year.
Apple ventures into magazine subscription business
Apple has also ventured into selling subscriptions to digital magazines. That followed its acquisition of subscription service Texture, which allows users to access more than 200 magazine titles.
Boosting hardware and service sales
Selling digital and magazine subscriptions fits into Apple's growth strategy in two ways. On the one hand, book and magazine subscriptions allow Apple to improve the appeal of its hardware products such as the iPhone, enabling it to sell more devices. Apple makes most of its money from selling iPhones.
On the other hand, selling digital book and magazine subscriptions supports Apple's goal to double its annual services revenue by 2020.
Apple made $38 billion from its iPhone business in the first quarter, which is its fiscal Q2 2018. That led to its overall revenue rising 16% YoY (year-over-year). Revenue rose 26% YoY at Google parent Alphabet (GOOGL) in the first quarter, while Microsoft (MSFT) and Amazon (AMZN) reported revenue increases of 16% and 43% YoY, respectively, in the same period. Facebook's (FB) revenue rose 49% YoY in the first quarter.