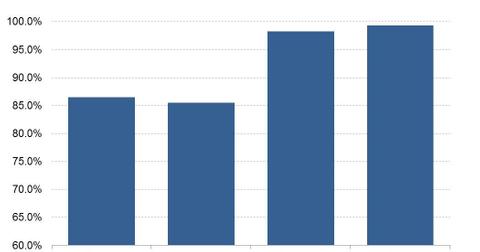 Google's Free WiFi Project Reaches Milestone in India
By Ruchi Gupta

Updated
Google Station reaches over 8.0 million people
Alphabet's (GOOGL) Google continues to recruit new users in India. Google's project to bring free WiFi service to train commuters in India has reached a milestone. The company noted that the service has been rolled out in 400 railway stations and reaches more than 8.0 million people per month.
The project, dubbed Google Station, was announced in 2015 and began rolling out in 2016. Google partnered with RailTel, the telecom arm of India Railways, on the Stations project.
Google Station has also launched in Mexico and Indonesia, and the company is planning to take it to more countries. Facebook (FB) has a similar project to Google Station.
Express WiFi, as Facebook's version is called, is seeking to create as many as 20,000 Internet access points across India. Facebook partnered with India's leading telecom provider, Bharti Airtel, to assist it in rolling out its Express WiFi project in India.
Google and Facebook on bridging Internet access gap
Google Stations and Express WiFi are only a small part of the efforts Google and Facebook are making to bring more people online and create more users for their online services. Google parent Alphabet is funding a much larger global Internet access program known as Project Loon, which involves spreading high-speed wireless Internet to remote areas around the world using specialized balloons.
Facebook's corresponding global Internet access program is known as Project Aquila, which involves using specialized drones instead of balloons.
Driving international expansion
Taking Internet access to people who currently don't have it is helping Google and Facebook in their international expansion. This trend is expected to boost their advertising businesses.
Google and Facebook rely on advertising for the vast majority of their revenues. As the chart above illustrates, they aren't the only ones. Advertising accounted for more than 85.0% of revenues at Twitter (TWTR), Snap (SNAP), and Yelp (YELP) in the first quarter.