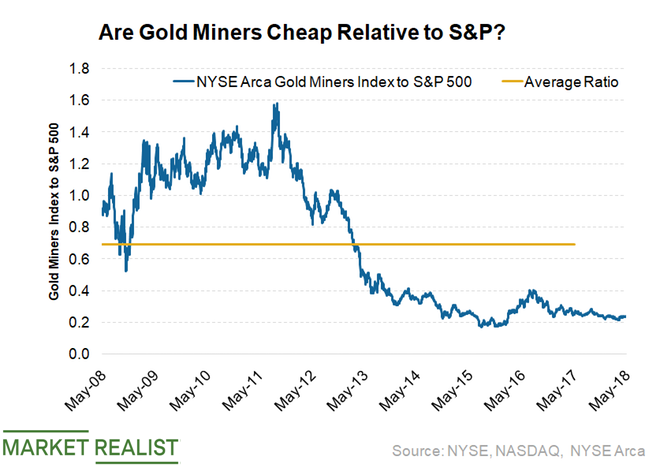 Could Gold and Miners Rise as Global Risks Rise?
By Anuradha Garg

Nov. 20 2020, Updated 3:34 p.m. ET
US dollar capped gold's gains year-to-date
Gold (GLD) hasn't been able to rise amid rising geopolitical and trade war concerns in 2018, primarily due to increasing strength in the US dollar. The PowerShares DB US Dollar Index Bullish ETF (UUP) has risen 8.3% since its low on February 15. 
The recent run to safe-haven assets following the tariff announcements, in concert with the Fed's hawkish tone, has supported the US dollar. Even when the US is in the thick of the action in trade war escalations, the dollar has been gaining. This trend could have resulted from investor confidence that a trade war wouldn't impact the US economy much.
Article continues below advertisement
Protectionism and gold
The recent few days of tit-for-tat trade tariffs have rattled the equity markets, as investors are becoming skittish regarding the outcome of these threats. Some fund managers have suggested keeping some gold in investment portfolios as a hedge against uncertainty stemming from the current policy environment and escalating trade tensions. For example, David Rosenberg, Gluskin Sheff's chief economist, recommends having some gold in an investment portfolio to hedge against a weak US dollar. 
Mark Yusko, CEO of Morgan Creek Capital Management, is concerned about the policies pursued by the Fed and a devalued currency that have led to record-high valuations in the equity markets. Yusko said that gold and gold miners are as cheap as they've been since the peak of the technology bubble in 2000. He added that this could be an opportunity to add them at attractive levels. According to their latest 13F filings, Ray Dalio and John Paulson are also still betting on gold.
Gold and gold miners
As the dust settles, gold prices (GLD) could continue to rise, as we highlighted in Is It Time to Turn Bullish on Gold after Its Recent Weakness? Among other factors, geopolitical concerns in the European Union, trade tensions, and policy uncertainty in the United States could support medium- to long-term gold prices. 
You can also read Can Gold Stocks Catch Up to Broader Equities and Gold Prices? to see how gold equities are looking compared to the broader equities.
The current average ratio of the NYSE Arca Gold Miners Index (GDX) and the S&P 500 Index (SPY) is 0.23 compared to the ten-year average of 0.70, as you can see in the graph above. Once gold prices stage a consistent and sustained bull run, gold miners could catch up to gold and the broader markets.