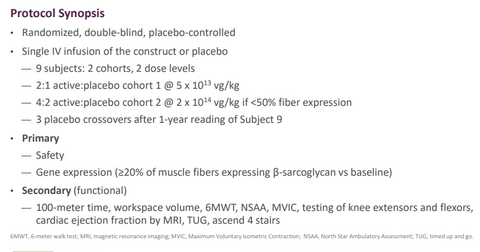 Analyzing Sarepta's Agreement with Myonexus Therapeutics
By Kenneth Smith

Updated
Myonexus Therapeutics
Sarepta Therapeutics (SRPT) and Myonexus Therapeutics entered into a warrant to purchase Myonexus common stock on May 3. This agreement gives Sarepta the exclusive option to acquire Myonexus. Sarepta can utilize this option within 60 days after the following two events occur:
Myonexus completes a successful biopsy analysis on all the patients in cohort two capable of providing a biopsy at the end of 60 days of Myonexus's phase one and two clinical trial of MYO-101.
Myonexus provides Sarepta with this study's final biopsy results.
Under the agreement, Sarepta is liable for a $60 million non-refundable upfront payment and may be obligated to pay $45 million in development milestones. An additional payment will also be required if Sarepta exercises the option to acquire Myonexus.
Golodirsen
Golodirsen, one of Sarepta Therapeutics' key product candidates, makes use of the company's PMO chemistry and exon-skipping technology to skip exon 53 of the DMD gene. The drug is designed to bind to exon 53 of dystrophin pre-mRNA, which results in the exclusion (or skipping) during mRNA processing. This skipping is intended to promote the production of an internally truncated but functional dystrophin protein.
Sarepta is currently enrolling and dosing patients in its Essence trial. This is a phase three placebo-controlled confirmatory trial for patients that have a confirmed mutation of the DMD gene that is amenable to exon 45 or 53 skipping by using casimersen and golodirsen. Golodirsen is also in phase one of a two-part study at present. Part two is the open-label part of the study. In March 2018, Sarepta announced plans to submit a new drug application (or NDA) to the FDA by the end of 2018 for the accelerated approval of golodirsen. Importantly, the drug will potentially address one of the highly prevalent sets of mutations in DMD that are amenable to exon skipping.
In the next part of the series, we'll look at why Sarepta stock has risen by more than 50% this week.