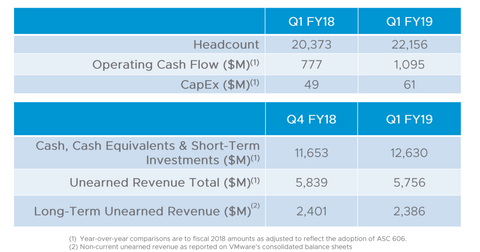 A Look at VMware's Cash and Cash Flow Position
By Anne Shields

Updated
VMware's debt, cash, and cash flow position
So far in this series, we've discussed VMware's (VMW) fiscal Q1 2019 results. Its top line growth trickled down to its bottom line in the quarter.
Despite the uncertainty VMware faces over its future as its parent company, Dell (which has an 82% stake in VMware), considers an IPO or a merger with it, the stock has continued its upward trajectory.
VMware's increased initiatives and strategic partnerships with Microsoft (MSFT), Google (GOOG), Amazon (AMZN), and International Business Machines (IBM) have improved the market sentiment for the stock. Let's have a look at VMware's cash, debt, and cash flows to determine the strength of its balance sheet.
In fiscal Q1 2019, VMware's cash, cash equivalents, and short-term investments totaled $12.6 billion. It had ~$4.0 billion in total debt in fiscal Q1 2019, the majority of which was long term. Notes payable to its parent company, Dell, continued to be only $270 million.
Article continues below advertisement
VMware's improving cash flows
As the above presentation shows, VMware's operating cash flow in the quarter rose 41% on a year-over-year basis to ~$1.1 billion. After the deduction of $61 million worth of capex, VMware's FCF (free cash flow) stood at $1.0 billion, a rise of 42% and representative of a 51.5% FCF margin.
Let's look at the direction in which VMware's FCF margin is headed. For fiscal 2019, VMware has provided guidances of $3.6 billion and $3.2 billion in operating cash flow and FCF, respectively. The company expects its fiscal 2019 revenue to be $8.8 billion, which represents a 39% margin.
Improvements in VMware's top line growth and operating margin have led to an expansion in its cash flow margins. A steady increase in cash flows, decent cash reserves, and low debt levels indicate bright prospects for VMware. These prospects also explain why Dell is so eager to enter into a merger with it.