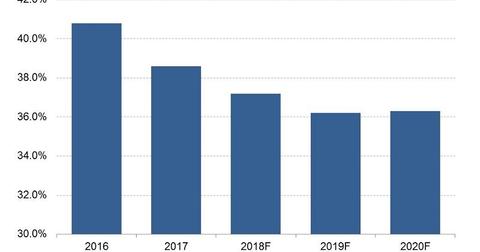 Why Is Google's Share of Global Ad Spending Shrinking?
By Neha Gupta

Updated
Google's share of global ad market seen falling to 31%
Google's share of digital advertising budgets is expected to drop this year compared to 2017. The Alphabet (GOOGL) unit is expected to capture 31% of global ad spending in 2018, down from 31.7% in 2017, according to industry forecaster eMarketer. 
In the United States, Google is expected to capture 37.2% of digital ad spending in 2018, down from 38.6% in 2017. Facebook's (FB) share of US digital ad spending is also poised to drop to 19.6% this year from 19.9% last year.
Article continues below advertisement
Google and Facebook control the bulk of the digital advertising market, but the ground under their feet is shifting amid rising competition from their smaller rivals. For example, Microsoft (MSFT), Amazon (AMZN), Yelp (YELP), and Snap (SNAP) are expected to grow their shares of US digital ad spending this year compared to last year.
Verizon hired former Alibaba executive to lead efforts against Google
Verizon (VZ) is also strengthening its Oath subsidiary to take on Google and Facebook in the digital advertising market. Verizon built Oath out of AOL and Yahoo assets it acquired for nearly $10 billion combined. Oath recently tapped a former Alibaba (BABA) global executive for a key role. Alibaba is a big online ad provider in China and internationally. Google and Facebook products are mostly blocked in China.
High cost of mobile traffic may frustrate Google's rivals
Although competitors are stepping up their game to challenge Google for digital advertising budgets, they face significant barriers. For example, it's more expensive to acquire mobile traffic, and the majority of digital content consumers are on mobile. 
The high cost of mobile traffic may slow some competitors in their efforts to narrow Google's lead in digital advertising, but Google can rely on its deep pockets to broaden its mobile presence. Alphabet was sitting on $102.9 billion in cash at the end of 1Q18.