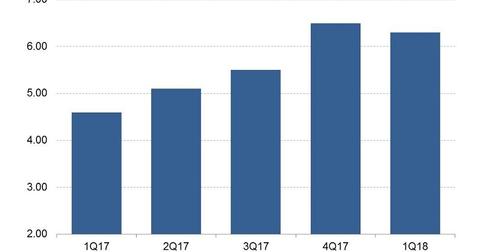 Why Google's Traffic Costs Are a Hot Topic
By Neha Gupta

Updated
Traffic acquisition costs seen as investment in advertising
For several recent quarters, Alphabet (GOOGL) executives have been trying to explain why Google's traffic acquisition costs are on the rise. This development shows growing investor concern about the high cost of sustaining Alphabet's revenue growth.
Traffic acquisition costs describe the payments Google makes to partners to bring users to its search engine. These partners include smartphone manufacturers that ship devices with Google as the default search engine. Apple is one of Google's mobile traffic partners.
At Alphabet, traffic acquisition costs are viewed as an investment in its advertising business—its bread and butter. Like Facebook (FB), Twitter (TWTR), Snap (SNAP), and Yelp (YELP), Alphabet relies on advertising for nearly 90% of its revenue.
Article continues below advertisement
Google spent nearly a quarter of its advertising revenue on traffic acquisition costs
In 1Q18, Google's traffic acquisition costs were $6.3 billion, up from $4.6 billion a year earlier. Its traffic acquisition costs grew 37% YoY (year-over-year), outpacing the 26% YoY revenue growth Alphabet reported for 1Q18. Traffic acquisition costs also ate a bigger chunk of Google's advertising revenue in the latest quarter compared to the previous year's quarter. They represented 24% of Google's advertising revenue in 1Q18 compared to 22% in 1Q17.
Rising traffic acquisition costs drove Alphabet's overall costs and expenses to $24.1 billion in 1Q18 compared to $18.2 billion in 1Q17.
Mobile traffic is more expensive
According to Alphabet, rising traffic acquisition costs reflect the fact that its strongest growth areas carry higher traffic costs. Mobile search is one of Alphabet's strongest growth areas, as most of Google's advertising revenue is now booked on mobile platforms. But it costs more to acquire traffic on mobile devices than it costs to acquire traffic on desktop computers.