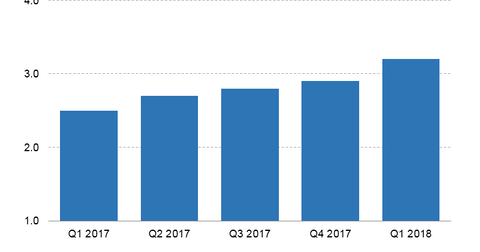 PayPal Is Partnering to Multiply Its Opportunities in Asia
By Neha Gupta

Updated
Cash is PayPal's biggest competitor
Asia, particularly Southeast Asia, presents an enormous opportunity and challenge for companies that provide digital financial services since e-commerce is on the rise. Southeast Asia's e-commerce industry is poised to grow by 16x to reach $88 billion by 2025, according to a study by Google and investment firm Temasek. For digital payment processors such as PayPal (PYPL), digitalization of shopping in Southeast Asia is expected to generate more business.
But there is a challenge for companies that want to process digital payments in Southeast Asia. The majority of consumers in the region prefer to pay with cash. A PayPal executive has described cash as the company's biggest competitor.
Southeast Asians are largely unbanked
The popularity of cash payments in Southeast Asia could be exacerbated by a low penetration of banking services in the region. A KPMG study found that less than 30% of Southeast Asia's 600 million people have bank accounts. That implies that nearly 440 million people in Southeast Asia are unbanked.
PayPal is partnering to reach Southeast Asia's unbanked population and generally stimulate growth of its digital financial services market in the region. As part of these efforts, PayPal has welcomed Indonesia-based venture capital firm Alpha JWC Ventures as a partner for its PayPal Incubator program, according to a Bloomberg report. The company launched PayPal Incubator in 2016 to support startups developing financial technologies.
PayPal isn't alone in the race
There's plenty of competition for Southeast Asia's digital market. Alibaba (BABA) and Tencent (TCEHY), which offer some services that compete with PayPal, are busy building a presence in Southeast Asia in areas that range from e-commerce to digital payments.
PayPal increased its marketing and product development spending in the first quarter, leading to its costs and expenses rising 28% YoY (year-over-year) to $3.2 billion. At Square (SQ), expenses rose 47.3% YoY in the first quarter, while at Amazon (AMZN), expenses increased 41.5% YoY.