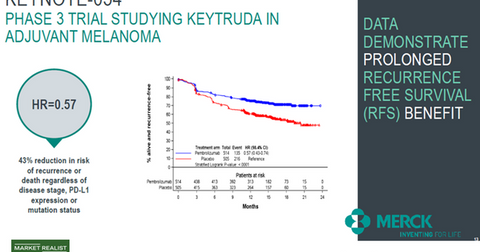 Merck Focuses on Multiple R&D Programs for Keytruda in 2018
By Margaret Patrick

Updated
Keytruda in melanoma indication
On April 15, Merck (MRK) in collaboration with the European Organisation for Research and Treatment of Cancer (or EORTC) announced positive results from the Phase 3 KEYNOTE-054 trial, which highlighted the efficacy of Keytruda as adjuvant therapy for high-risk stage III melanoma patients who have previously undergone surgery.
In this study, which involved about 1,019 patients, Keytruda managed to demonstrate significant improvement in recurrence-free survival as compared to a placebo. With a hazard ratio of 0.57, the drug demonstrated a reduction in risk of recurrence of the disease or death by 43%.
Merck plans to follow these patients to gather overall survival data for Keytruda as adjunctive therapy in the resectable high-risk stage III melanoma indication. Additionally, recurrence-free survival is also considered to be a predictor of overall survival benefit.
Article continues below advertisement
Keytruda in lung and cervical cancer indications
On April 9, Merck announced positive results from its Phase 3 KEYNOTE-042 trial, which evaluated Keytruda monotherapy in the first-line metastatic or advanced non-small cell lung cancer (or NSCLC) indication, where patients do not have any EGFR and alpha mutations. The trial managed to reach its primary endpoint, highlighting the overall survival benefit of using Keytruda monotherapy in NSCLC patients with a PD-L1 tumor proportion score (or TPS) of at least 1% as compared to traditional chemotherapy.
This study follows the company's KEYNOTE-024 trial, which demonstrated the overall survival benefit of using Keytruda monotherapy for treatment-naïve NSCLC patients with PD-L1 TPS greater than or equal to 50%. Based on this trial data, Keytruda became the first immunotherapy to secure FDA approval in the first-line NSCLC indication.
In March 2018, the FDA granted priority review for Keytruda's supplemental biologics license application (or sBLA) seeking approval for the drug in the advanced cervical cancer indication. The PDUFA date for this sBLA is scheduled for June 28.
Owing to its comprehensive research programs, Keytruda is expected to enable Merck to compete aggressively with other oncology players such as Roche Holdings (RHHBY), Bristol-Myers Squibb (BMY), and Pfizer (PFE).
In the next article, we'll discuss other research programs evaluating Lynparza in greater detail.