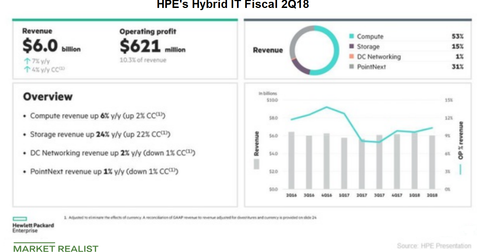 Is HPE Adopting an Acquisition Route to Report Growth?
By Anne Shields

Updated
HPE's enterprise's acquisition spree
Earlier, we discussed how Plexxi's acquisition will benefit Hewlett Packard Enterprise (HPE) in the hybrid cloud, HCI (hyperconverged infrastructure), and HCN (hyperconverged network) spaces, which should also help the company ace its composable infrastructure strategy.
HPE left the competitive and consolidated cloud space by abandoning its HPE Helion cloud service in 2016. Since then, its focus has been on providing technologies for cloud providers and data centers.
Article continues below advertisement
In April, HPE acquired RedPixie, a UK-based (EWU) company that helps organizations achieve digital transformation. It provides cloud consulting, application development, and migration services to enterprises that are keen to migrate their workloads and legacy systems to the public cloud. This acquisition is also in sync with HPE's new focus on the cloud space, as it gives its existing offerings a holistic view. The financial details of the acquisition were not disclosed.
In late March, HPE announced its acquisition of Cape Networks. Cape Networks is a networking company that proactively tests the performance and availability of services and applications. It then notifies IT professionals of issues and problems before they affect the user or the business. Cape Networks applies a sensor-based, network-agnostic approach.
HP integrated Cape Networks' offerings with Aruba NetInsight. Aruba NetInsight is HPE's AI-based analytics and assurance solution, which is aimed at optimizing network performance. It uses machine learning to monitor networks and deliver insights in the event of variances. According to CEO Antonio Neri, "Cape expands Aruba's AI-powered networking capabilities with a sensor-based network assurance solution that improves network performance, reduces disruptions and significantly simplifies IT management for our customers."
Hybrid IT revenue rose 7%
HPE's Hybrid IT segment's fiscal Q2 2018 revenue rose 7% to $6 billion. Hybrid IT is the company's largest segment. It accounted for 80% of the company's revenue in its most recent fiscal quarter.
According to HPE, Plexxi's acquisition could help customers manage data more efficiently and reduce capex and operational expenditure by up to 50% in some cases.