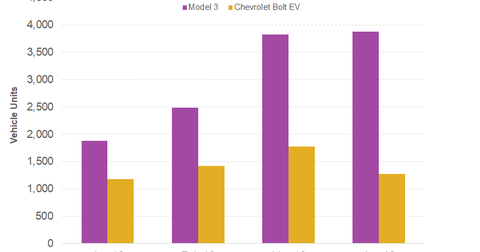 Here's How after 2 Years, the Model 3 Still Rules the Market
By Jitendra Parashar

Updated
Tesla Model 3
In the previous article, we looked at Tesla (TSLA) stock's recent price movements. As of May 9, while its stock is still trading in negative territory with a fall of 1.4% year-to-date, it's recovered 15.3% in 2Q18 so far.
Model 3 production updates have been one of the key drivers of Tesla's stock price in the last few months. In this article, we'll take a look how the Model 3 is still able to maintain a strong position in the mass-market EV (electric vehicle) segment (XLY).
Article continues below advertisement
A look at the Model 3's journey
It has been over two years now since the Tesla Model 3 was unveiled at an electrifying event on March 31, 2016. The Model 3 is the company's effort to enter the mass-market, affordable EV segment. TSLA's previous two car models, the Model S and the Model X, largely serve a niche of auto buyers with high disposable income.
In May 2016, after receiving a positive response from potential Model 3 buyers, Tesla announced the advancement of its half-million vehicle unit build plan from 2020 to 2018. However, during its 1Q16 earnings call, the company's management admitted that achieving this goal would be challenging.
In 3Q17, Tesla couldn't achieve its own production goal for the Model 3 due to bottlenecks in the production line. Since then, Model 3 production worries have been hurting investors' confidence and giving Tesla bears a reason to cheer.
Earlier this year, TSLA delayed its high-volume production plan for 2H18, and currently, it's focusing on resolving the Model 3 bottlenecks. By the end of 1Q18, Tesla managed to achieve a Model 3 production rate of slightly over 2,000 units per week. While this weekly production rate reflected a huge improvement compared to the previous quarter, the company still fell short of its own expectation of 2,500 units per week. By the end of 2Q18, Tesla expects to achieve a Model 3 production rate of 5,000 units per week.
Article continues below advertisement
A market leader
In the last few years, mainstream automakers have sped up their efforts to build mass-market electric vehicles. In December 2016, General Motors began deliveries of the Chevrolet Bolt EV, which comes with a price tag similar to the Model 3's. While Tesla already has roughly half a million reservations for the Model 3, GM has struggled to boost the sales of its Bolt EV in the first four months of 2018.
According to the data compiled by insideevs.com, Tesla Model 3 US deliveries stood at 12,000 units in the first four months of 2018, much higher than the 5,650 units of the Chevrolet Bolt EV. Among other electric cars (FXD), the US sales of Toyota's (TM) Prius Prime and Fiat Chrysler's (FCAU) Fiat 500e totaled 9,094 units and 945 units, respectively.