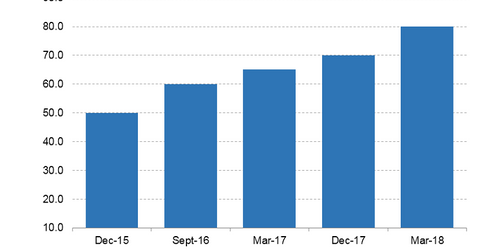 Facebook Pledges to Shield Users from State-Sponsored Hacks
By Neha Gupta

Updated
Keeping Facebook out of controversy
There may be little Facebook (FB) can do to undo its now-complicated past, which has spurred many privacy and information questions. Alongside other social media providers such as Google (GOOGL) and Twitter (TWTR), Facebook has been criticized for allegedly enabling foreign agents to sow division among American voters ahead of the presidential election in 2016.
More recently, there was the issue of Facebook allowing the personal data of tens of millions of its users to get into the hands of a third party that allegedly ended up misusing the data.
But the company is taking steps to ensure that past mistakes aren't repeated. Keeping away from controversy will allow its leaders and employees the peace of mind they need to concentrate on building products that could go a long way toward maximizing value for shareholders.
Article continues below advertisement
Facebook signs cybersecurity tech accord
Facebook reported its 1Q18 financial results after recently joining Microsoft (MSFT), Nokia (NOK), Cisco Systems (CSCO), and several other technology companies in signing a declaration not to assist any government in waging cyberwar against any innocent civilian or enterprise.
About 2.2 billion people use Facebook globally, and some 80 million small businesses have presences on Facebook through the company's Pages product. The number of small businesses using Facebook's Pages product has grown, as we can see in the chart above.
Twitter and Google, Facebook's competitors in the business of providing online advertising services, didn't sign the accord.