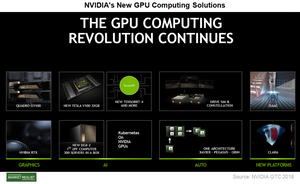 A Look at NVIDIA's New Artificial Intelligence Solutions
By Puja Tayal

Updated
NVIDIA's GTC 2018
NVIDIA (NVDA) is expanding beyond hardware to provide a complete AI (artificial intelligence) ecosystem that includes algorithms and software. At the GTC 2018 (GPU Technology Conference), NVIDIA's CEO, Jensen Huang, announced several hardware and software solutions for AI, gaming, and auto. The company also announced new platforms for industry verticals such as healthcare and manufacturing.
Article continues below advertisement
Tesla V100
At GTC 2018, NVIDIA introduced an upgrade of its Tesla V100 GPU (graphics processing units), which doubles the memory to 32GB (gigabytes). Higher memory capacity improved the GPU's ability to handle data-intensive applications like deep-learning training. 
NVIDIA gave the example of SAP, which tested the new V100 on its SAP Leonardo Brand Impact application. The GPU was able to process higher-definition images and a larger deep-learning model faster than its predecessor. Moreover, the new GPU delivered more accuracy by reducing the average error rate by 40.0%.
DGX-2
NVIDIA also announced DGX-2 server, which is due for release in Q3 2018. The DGX-2 server combines 16 Tesla V100 GPUs with the new NVSwitch interconnect fabric, which Huang claims has five times more bandwidth and performance than an industry-standard PCI (Peripheral Component Interconnect) switch.
The DGX-2 can deliver two petaFLOPS (floating point operations per second) of computational power, which equates the processing power of 300 servers on 15 racks. The DGX-2 server is 60 times smaller and 24 times more power-efficient than 300 servers delivering significant cost saving. 
In a FAIRSeq neural machine translation model benchmark test, DGX-2 delivered 10x better performance than its predecessor by reducing the training time from 15 days to less than 1.5 days.
Article continues below advertisement
AI software solutions
At GTC 2018, NVIDIA unveiled the latest version of its deep-learning inferencing software TensorRT 4. The software migrates workloads from CPU (central processing unit) to GPU to optimize performance and reduce the cost of adopting deep learning models in applications such as speech and image recognition and natural language processing.
Google (GOOG) has already integrated TensorRT 4 into its TensorFlow 1.7 to streamline deep-learning inferencing on GPUs. Google noted that the addition of TensorRT 4 increased image recognition speed from 300 images per second to 2,600 images per second.
AI cloud solutions
NVIDIA is easing the adoption of its GPU on both public and private cloud by making GPUs and GPU-optimized software available on the cloud. At GTC 2018, NVIDIA announced that its GPU-based inferencing software supports Kubernetes, an open-source system that helps automate deployment, scaling, and management of containerized applications.
NGC (NVIDIA GPU Cloud) is a cloud registry and certification program that makes NVIDIA GPU-optimized software available on third-party clouds. Amazon (AMZN) Web Services, Google Cloud Platform, Oracle (ORCL) Cloud, and Alibaba' (BABA) AliCloud are now offering NGC.
Next, we'll look at NVIDIA's developments in vertical platforms.
Check out all the data we have added to our quote pages. Now you can get a valuation snapshot, earnings and revenue estimates, and historical data as well as dividend info. Take a look!