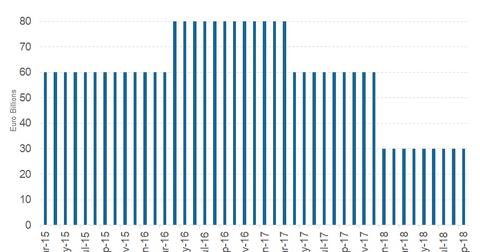 What the European Central Bank Is Planning for Asset Purchases
By Ricky Cove

Updated
Asset purchase program to continue until September
The ECB (European Central Bank) made no changes to its APP (asset purchase program) at its April meeting, maintaining that its purchase rate of 30 billion euros in debt securities per month will continue until the end of September 2018 or beyond if necessary. Recent developments indicate that the ECB is looking to end the APP, and this may be a good time to do so, as economic progress is encouraging.
Article continues below advertisement
The ECB's APP plan
Whereas it's not likely the ECB stops bond purchases abruptly in September, it could announce a plan to taper off purchases by the end of the year or early next year. In April, the ECB stated that it will continue to reinvest principal payments from maturing securities purchased under the APP for as long as necessary. This guarantee could keep liquidity conditions healthier and avoid major disturbances in European bond (FIEE) markets.
Bond market reaction to the ECB statement
After the ECB's statement on April 26, Eurozone bond yields in Italy (DBIT), Spain (EWP), and Portugal fell by a few basis points, and German bond (GGOV) yields dropped the most. This fall was a welcome respite, as Eurozone bond yields (IGOV) had been rising along with US bond yields recently. In the next part of this series, well analyze the euro's reaction to the ECB statement.