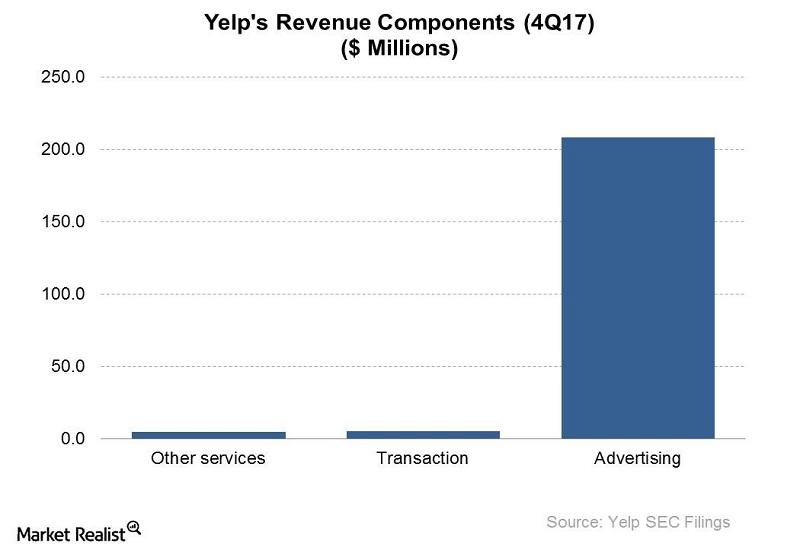 Inside Yelp's Revenue Components
By Neha Gupta

Apr. 4 2018, Published 12:38 p.m. ET
Yelp reports revenue under three categories
Yelp (YELP) reports revenue under three categories: Advertising, Transaction, and Other services. Yelp's online advertising peers, Facebook (FB), Twitter (TWTR), Snap (SNAP) and Google parent Alphabet (GOOGL), also break down their revenue into various categories. Facebook breaks down its revenue between Advertising and Payment & Other Fees, while Twitter divides its revenue between Advertising and Data Licensing.
Looking into a company's revenue components helps to understand how its business is diversified. For digital advertising companies, competition for advertising budgets is escalating, and there is a growing need for them to launch revenue-generating initiatives beyond advertising.
Article continues below advertisement
Transaction revenue falls nearly 70%
In 4Q17, advertising brought in the most revenue for Yelp, while its other services grew the fastest. Advertising revenue totaled $208.4 million, representing 18% YoY (year-over-year) growth. Its transaction business generated $5.2 million in revenue, implying a decline of 68.7% YoY.
The steep drop in transaction revenue was due to the sale of Yelp's online food ordering service, Eat24. Yelp decided to monetize Eat24 after running the service for two years. As Yelp completed the sale of Eat24 to GrubHub (GRUB) in October 2017, it was able to book some revenue from Eat24 in 4Q17 before the transaction closed. Eat24 contributed $1.8 million in revenue to Yelp's transaction segment in 4Q17.
Other services grew more than 170%
Yelp generated $4.6 million in other services in 4Q17, representing growth of 170.6% YoY. The robust growth in Yelp's other services category was driven by restaurant waitlist service Nowait and Wi-Fi marketing service Yelp Wi-Fi, both of which Yelp acquired in 2017.
The growth in advertising and other services led Yelp to report 12% YoY growth in overall revenue in 4Q17. Excluding contributions from Eat24, Nowait, and Yelp Wi-Fi, Yelp's revenue grew 20% YoY.