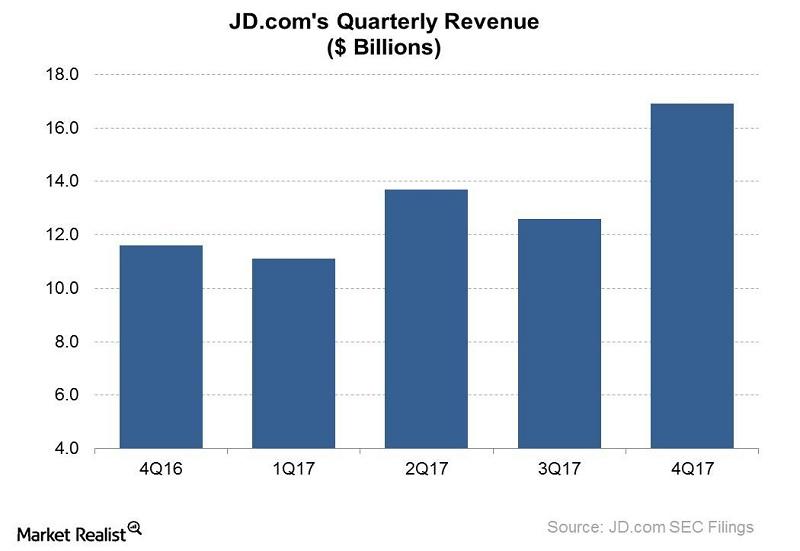 How JD, Tencent, and Alibaba Compare and Contrast in Key Metrics
By Ruchi Gupta

Apr. 6 2018, Updated 7:31 a.m. ET
Tencent is a large investor in JD
JD.com (JD) and Tencent (TCEHY) have joined forces to wage war against Alibaba (BABA) in fields ranging from e-commerce to cloud computing to mobile payments. Are they achieving anything? In this article, we'll dig into their performance reports to find the answer. But first, let's take a look at their relationship. 
In addition to teaming up with JD to invest in the same strategic companies and striking a commercial alliance with JD to tap into each other's strengths, Tencent is a big investor in JD with a stake of roughly 20%. Walmart (WMT) is also a large investor in JD. In a blow to Alibaba, Walmart recently dropped Alibaba's Alipay and endorsed Tencent's WeChat Pay as the preferred mobile payment provider in all its stores in western China.
Article continues below advertisement
Alibaba outpaced both JD and Tencent in revenue growth
A look at the performance reports for the latest quarter shows that JD, Tencent, and Alibaba are both growing at a double-digit rate—but the speed of this growth varies.
In 4Q17, JD's revenue rose 38.7% YoY (year-over-year) to $16.9 billion. Revenue rose 51% YoY at Tencent and 56% YoY at Alibaba in the same period. Revenue rose 38% YoY at Amazon (AMZN) and 9.0% at eBay (EBAY) in the same quarter.
Turning to the bottom line, Tencent and Alibaba were both profitable in 4Q17, with each posting more than $3.0 billion in profits. But JD ended 4Q17 in the red, posting a loss of $139.7 million. The loss narrowed 27.9% compared to a year ago.
Alibaba boasts 515 million shoppers versus JD's 292 million
In terms of customers, Alibaba boasts nearly twice as many shoppers as JD. While JD closed 4Q17 with 292.5 million active customers, Alibaba had more than 515 million active retail customers in the same period.