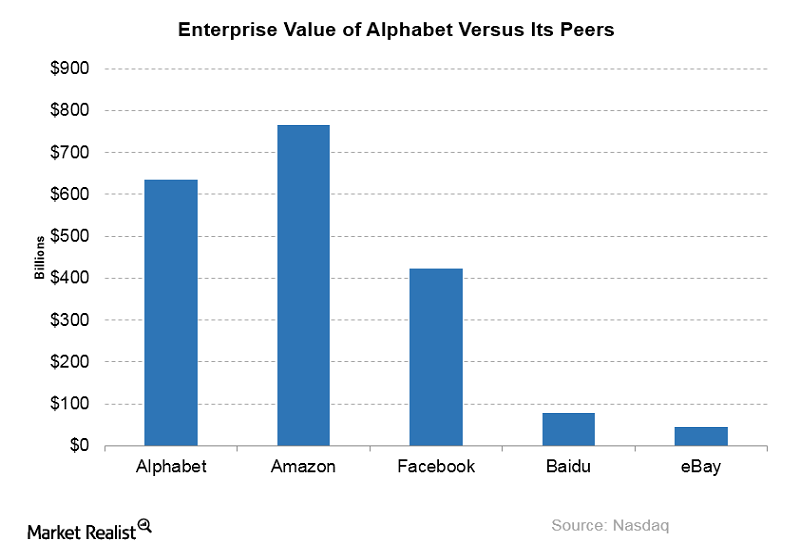 How Analysts View Alphabet
By Neha Gupta

Dec. 4 2020, Updated 10:53 a.m. ET
Deciphering Alphabet's comprehensive valuation
Alphabet's TTM (trailing-12-month) EV-to-adjusted EBITDA (enterprise value to adjusted earnings before interested, tax, depreciation, and amortization) multiple is 17.7x, and its EV-to-estimated EBITDA multiple for 2018 is 12.3x. Alphabet's EBITDA margin in 2017 was 32%.
Its TTM EV-to-sales multiple is 5.7x, while its EV-to-sales multiple is expected to be 4.1x in 2018. Alphabet's TTM EV-to-cash-flow and TTM EV-to-free-cash-flow multiples are 17.1x and 26.5x, respectively.
Article continues below advertisement
Inside Alphabet's price metrics
With a book value per share of $219.60, Alphabet is trading at a price-to-book multiple of 4.8x. The stock's estimated book value per share for 2018 is $235.50. Alphabet's price-to-sales multiple is 6.6x, while its estimated price-to-sales multiple is 5.5x for 2018.
A look at Alphabet's EBITDA numbers
Alphabet's EBITDA fell 21% to $35.8 billion last year, and analysts expect the company to post EBITDA of $51.6 billion. Alphabet's shares are changing hands at price-to-EBITDA of 20.5x.
Article continues below advertisement
Understanding Alphabet's earnings and sales
The EPS (earnings per share) of $32.50 that Alphabet posted last year stemmed from its total revenue of $110.9 billion. Revenue was up 23%. Alphabet is expected to see revenue of $156.60 and EPS of $41.40 in 2018.
Interest coverage multiple
Can Alphabet easily pay interest on its outstanding debt? The answer lies in examining the company's EBIT-to-interest multiple, which is 1,090.9x. Alphabet's debt-to-enterprise multiple is 1%.
Relative strength index
Whereas Alphabet has a 14-day RSI (relative strength index) score of 42, Amazon, Facebook, Baidu, and eBay have scores of 53, 28, 32, and 34, respectively.