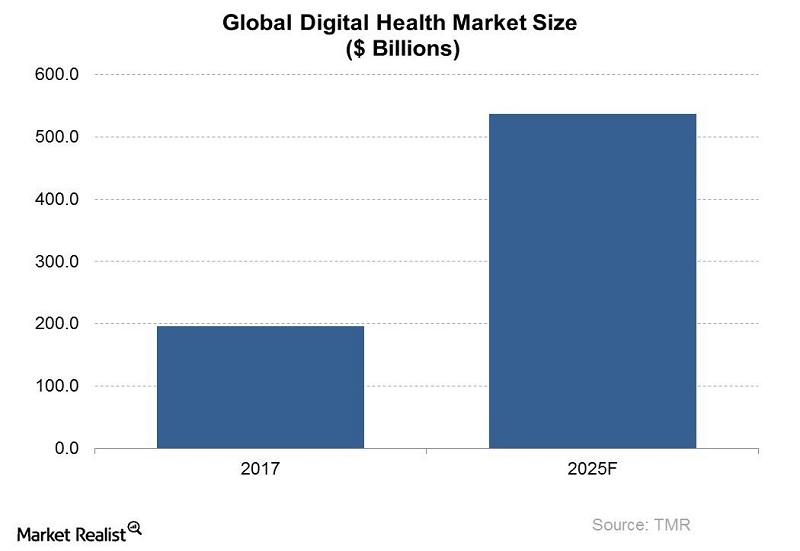 Apple and Health: Enhancing the iPhone as a Healthcare Device
By Ruchi Gupta

Apr. 10 2018, Updated 7:31 a.m. ET
Records from hundreds of hospitals
In the last week of March 2018, Apple (AAPL) updated its Health app to allow patients to access their medical records right from their iPhones. The update brings access to medical information from about 40 health systems representing hundreds of hospitals and clinics. Apple updated the iPhone Health app with it Health Records feature.
From the records section of the iPhone Health app, patients can see previous medical information and receive notifications when their medical records are updated. 
Article continues below advertisement
Apple says the app update can help patients better understand their health history, which can help them have informed conversations with their doctors and healthcare providers. Because inaccurate or incomplete health records have been linked to medical errors, giving patients rapid access to their medical records could help eliminate potential mistakes.
Speedy approval of new digital health products
In 2017, Apple was selected by the FDA to participate in a pilot program that could pave the way for rapid approval of new digital health products. The FDA also selected Fitbit (FIT), Samsung (SSNLF), Johnson & Johnson (JNJ), and Alphabet's (GOOGL) life sciences arm, Verily, for the pilot. Alphabet said during its 4Q17 earnings call in February that Verily was a major contributor to its Other Bets revenues.
More than $536 billion in the digital health market
Faster approval of digital health products could help companies like Apple penetrate the $536.6 billion global digital health market quickly. Transparency Market Research (or TMR) estimated the global digital health market to be worth $196.3 billion in revenues in 2017. TMR predicts that the market could swell to $536.6 billion by the end of 2025.