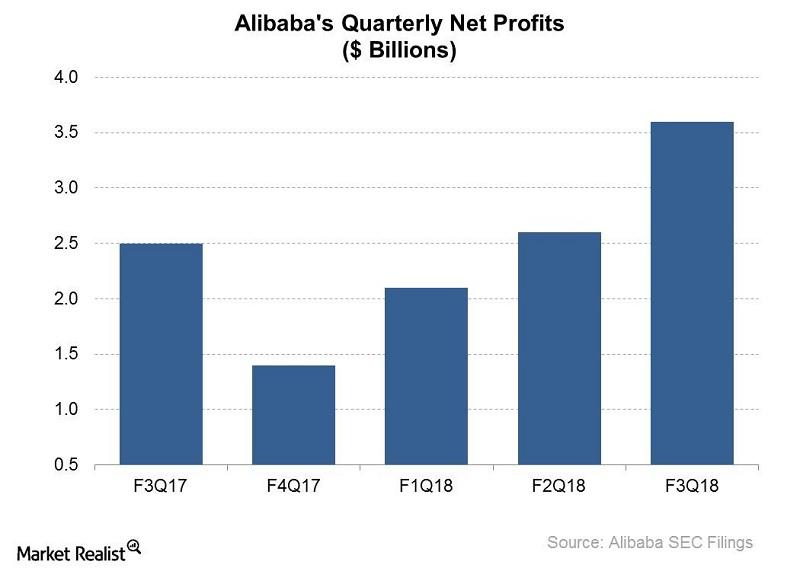 Alibaba Modifies Its Relationship with Ant Financial
By Neha Gupta

Apr. 26 2018, Updated 5:10 p.m. ET
Alibaba's profit share from Ant declines sharply
When Alibaba (BABA) reports its fiscal 4Q18 (calendar 1Q18) results, there will likely be a lot of investor interest in the effects of its relationship with Ant Financial. In fiscal 3Q18 (calendar 4Q17), Alibaba earned ~$30 million from Ant Financial because of an arrangement that entitles Alibaba to 37.5% of Ant's pretax profit.
However, at $30 million, Alibaba's earnings from Ant declined sharply from the $300 million seen in the previous quarter and the $74 million a year earlier. Alibaba said its profit share from Ant fell because of Ant's aggressive investments in driving customer growth, which resulted in Alipay's active user base more than doubling in the quarter ended in December. However, investments also drove up costs at Ant, cutting into earnings.
Article continues below advertisement
Alibaba ending entitlement to Ant profits
Alibaba is now ending its profit-sharing agreement with Ant. Instead, it will own equity interest in the business—a 33% stake. Acquiring equity interest in Ant is seen as Alibaba building deeper ties with its finance-focused affiliate. Given that Ant is expected to go public as soon as this year, an equity stake could see Alibaba reap big benefits in Ant's initial public offering.
Alibaba posted $3.6 billion in overall profit
The $30 billion profit earned through Ant saw Alibaba post $3.6 billion in profit overall in fiscal 3Q18. Amazon (AMZN) posted $1.9 billion in profit in the same period, eBay (EBAY) suffered a $2.9 billion loss, and JD.com (JD) suffered a $148.2 million loss. PayPal (PYPL) posted a $1.8 billion profit in the quarter comparable to Alibaba's fiscal 3Q18.