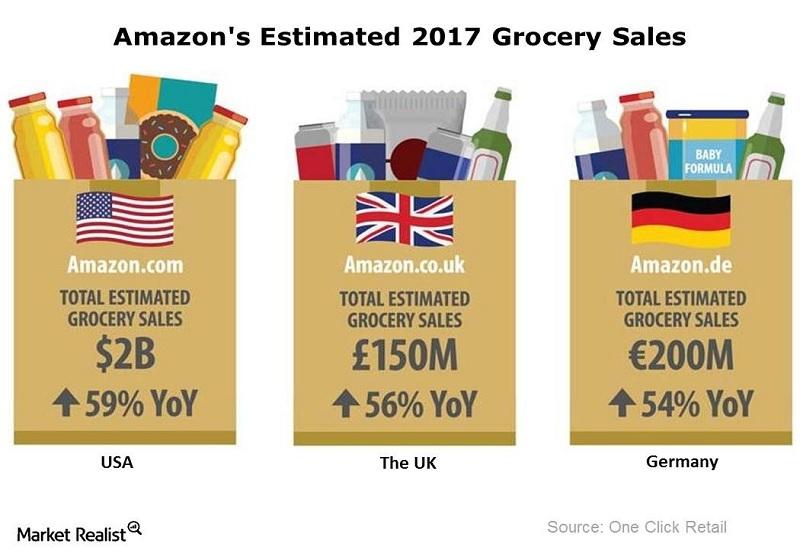 Why Amazon May Spare Israel's Food Sector on Its Initial Entry
By Ruchi Gupta

Mar. 15 2018, Updated 1:20 p.m. ET
Amazon eyes fashion and electronics markets in Israel
Although running a logistics center appears to be the top priority for Amazon (AMZN) in going local in Israel, the company has also reportedly explored selling items to consumers in the country.
It turns out that Amazon would avoid the food sector in its initial entry into Israel's local market. Instead, the first wave of Amazon's local retail activity in Israel is expected to be in fashion, media items, and electronic products. Amazon is reportedly attracted to these products because they have long shelf lives, Globes newspaper reported.
Article continues below advertisement
Israel's food market could be a tricky scene for newcomers
Perhaps Amazon is trying to be tactful in keeping out of Israel's food market in its initial launch in the country. Temperature conditions in Israel could be challenging for a newcomer to the country's food market, especially if that newcomer is an online retailer.
In the United States, though, Amazon is making an aggressive push into the food market. Its $13 billion acquisition of Whole Foods last year underscored its desire to step up the competition against Walmart (WMT), Kroger (KR), and Costco (COST) for consumers' food budgets.
Amazon's launch of a low-cost Prime membership plan aimed at people on government assistance was also viewed as representative of the company's push for more grocery spending.
One Click Retail estimates that Amazon's US online grocery business generated $2.0 billion in revenue in 2017.
What makes Israel attractive to e-commerce operators
In general, Israel's fast-growing population, high-level of Internet penetration, and improving household incomes make it an attractive market for e-commerce providers such as Amazon and eBay (EBAY).