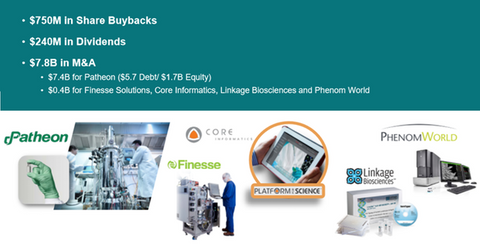 What Investors Should Know about TMO's Dividends
By Sarah Collins

Updated
Quarterly cash dividend
On March 14, 2018, Thermo Fisher Scientific (TMO) stock started trading ex-dividend. The company announced a quarterly cash dividend of $0.17 per share on January 31, 2018. The dividend will be payable on April 16, 2018, to shareholders of record on March 15, 2018. The dividend amount reflects an increase of ~13% as compared to the company's previous dividend payment of $0.15 per share.
The company had been paying the same dividend rate for the last four years and the current increase in dividend payment reflects the company's increased strength and its commitment to increase dividend payments over time. The previous quarterly dividend increase was announced on November 8, 2012. The dividend was increased from $0.13 per share to $0.15 per share.
Article continues below advertisement
As of March 15, 2018, Thermo Fisher Scientific has a dividend payout ratio of ~9.8%. The dividend yield of Thermo Fisher Scientific is ~0.32%. Peers Agilent Technologies (A), Abbott Laboratories (ABT), and Baxter International (BAX) have dividend yields of around 0.85%, 1.8%, and 0.95%, respectively.
Thermo Fisher Scientific's capital allocation strategy
Thermo Fisher Scientific (TMO) has consistently focused on M&As (mergers and acquisitions) as the primary capital allocation strategy over recent years. In 2017, the company spent $7.8 billion towards M&As. It acquired Patheon for $7.4 billion and spent ~$0.4 billion in other tuck-in acquisitions including Finesse Solutions, Linkage Biosciences, Phenom World, and Core Informatics.
After M&As, Thermo Fisher Scientific focuses on dividends and share buybacks to return shareholder value. In 2017, Thermo Fisher Scientific spent $750 million on repurchasing ~5 million shares and $240 million in dividends. The company has a remaining share repurchase authorization of $500 million as of January 31, 2018. Thermo Fisher Scientific generated ~$3.5 billion in free cash flows in 2017 as compared to $2.8 billion in 2016.