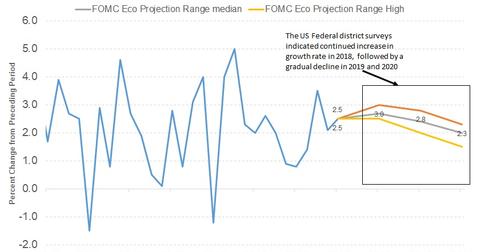 What Are the Reasons behind Improved Projections for US GDP?
By Ricky Cove

Updated
GDP forecast from the SEP
The FOMC (Federal Open Market Committee) updated its economic projections for the US economy at its recently concluded March meeting. Along with a statement that included a 0.25% rate hike, the FOMC released its upgraded economic projections through its Summary of Economic Projections (or SEP) report. The report is released four times per year and contains Fed members' projections for GDP growth, inflation (TIP), unemployment, and the policy interest rate. The projection for GDP growth for 2018 was upgraded 0.2%–2.7% compared to the previous projection of 2.5% reported in December. The growth outlook for 2019 was upgraded 0.3%.
Article continues below advertisement
What drove GDP projections higher?
Policy changes announced in the last six months may have led to the increased projection for economic growth. The tax cuts for corporations (XLI) and individuals became law in December 2017, which could lead to higher profits and investments (VIS). The other reform was the change in accounting practice that would allow complete expensing of fixed investment rather than the gradual depreciation of assets. That could also lead to increased spending by industries (FXR). Economic data released since the last SEP have also indicated increased growth in consumer spending (VCR), lower unemployment, and increased wages. All these factors could have helped improve the outlook for economic growth.
Will the economy improve?
The SEP is an average of Fed members' expectations that could be subject to change, depending on the incoming data. There are risks to this optimistic outlook since the political uncertainty in the United States remains unsettled and the threat from the possibility of increased tariffs could be just around the corner. Overall, the US economy seems to be on the right track, and these optimistic economic projections might be possible if there are no shocks to the economy.