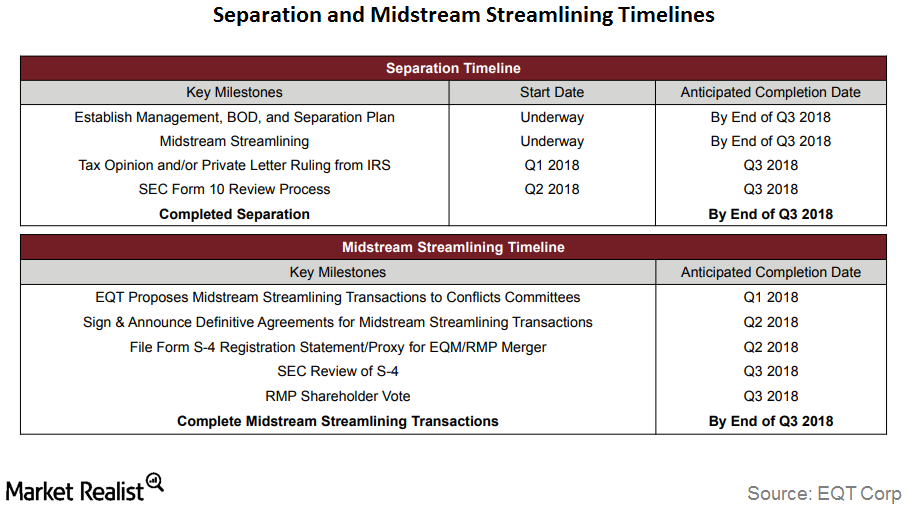 Reading the Key Steps Leading to EQT's Midstream Separation
By Keisha Bandz

Mar. 16 2018, Updated 4:45 p.m. ET
Midstream separation and streamlining timelines
EQT Corporation (EQT) expects the midstream separation to complete by the end of 3Q18. The midstream spin-off is subject to customary conditions.
These conditions include the receipt of a favorable opinion of legal counsel from the IRS (Internal Revenue Service) associated with the tax treatment of the transaction for income tax purposes, the Form 10 registration to be filed with the SEC (US Securities and Exchange Commission) for the shares of the new midstream company, and the final approval and declaration of the spin-off dividend by the EQT's Board of Directors.
Article continues below advertisement
Before the separation, EQT plans to pursue certain actions. These include the drop-downs of the retained midstream assets to EQT Midstream Partners LP (EQM), the merger of EQM and Rice Midstream Partners LP (RMP), and a sale of the RMP Incentive Distribution Rights (IDRs) to EQT GP Holdings LP (EQGP).
EQT management noted in a press release that under the separation plan EQT shareholders would retain their shares of EQT stock and receive a pro rata share of the new midstream company.
The press release stated the following: "We have taken many steps to highlight the value of our midstream assets through a series of transactions including, the initial public offering of EQM, midstream asset dropdowns to EQM, and the initial public offering of EQGP. This transaction represents a new chapter for our business as we unlock the value created during the past 10 years."