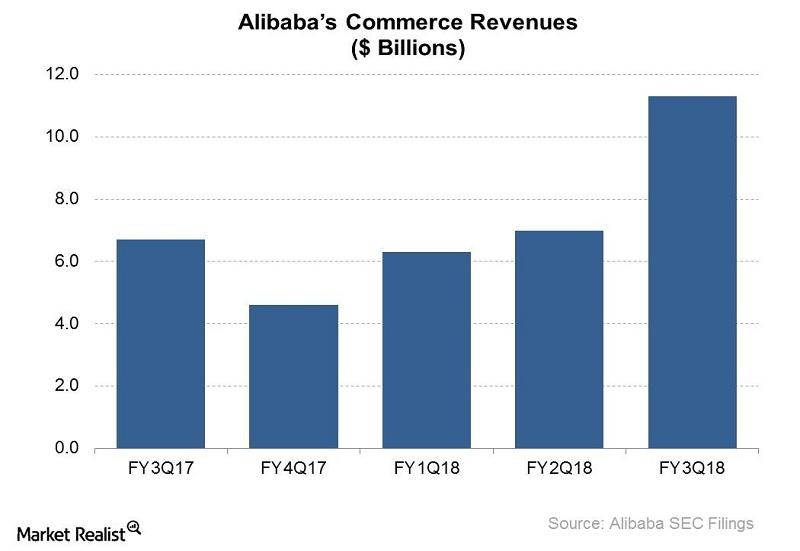 Putting the Alibaba–Easyhome Relationship in Perspective
By Ruchi Gupta

Mar. 20 2018, Updated 7:30 a.m. ET
Alibaba–Easyhome followed JD–SSLJ deal
In February, Alibaba (BABA) announced that it was investing ~$870 million in a 15% stake in Easyhome, a leading home-improvement chain in China. Easyhome started its operations in 1999, and it has grown to become China's second-largest home improvement and furniture provider, with 223 outlets across the country. The business generated ~$9.5 billion in revenue last year, China Daily reported.
Alibaba's announcement of its investment in Easyhome came only a few days after its rival JD.com (JD) announced its strategic partnership with China-based home-improvement provider SSLJ.com (SSLJ).
Article continues below advertisement
Focus on delivering a converged shopping experience
Alibaba's deal with Easyhome and JD's deal with SSLJ.com seem to fit with e-commerce companies' pushes to expand their physical store presences. Alibaba is pursuing what it calls its "new retail" strategy, which involves the delivery of a converged shopping experience that combines online and offline selling. With over 220 outlets across China, Easyhome seems like it would be a perfect fit for Alibaba's new retail strategy.
Physical stores are important in the grocery push
JD and Alibaba have made several investments in physical stores in recent years. Alibaba, for instance, invested $2.9 billion in Chinese hypermarket operator Sun Art Retail Group last year. It also invested in department store chain Intime Retail last year.
For e-commerce companies, physical stores are crucial for their push into the grocery business. Last year, Amazon (AMZN) paid $13.7 billion to acquire Whole Foods, a grocery retailer that runs more than 470 stores. Amazon now delivers grocery orders straight from Whole Foods outlets as it challenges traditional retailers Walmart (WMT) and Kroger (KR) for grocery budgets.
Alibaba's overall commerce sales rose 57% year-over-year to $11.3 billion in its fiscal 3Q18 (the quarter that ended in December 2017).