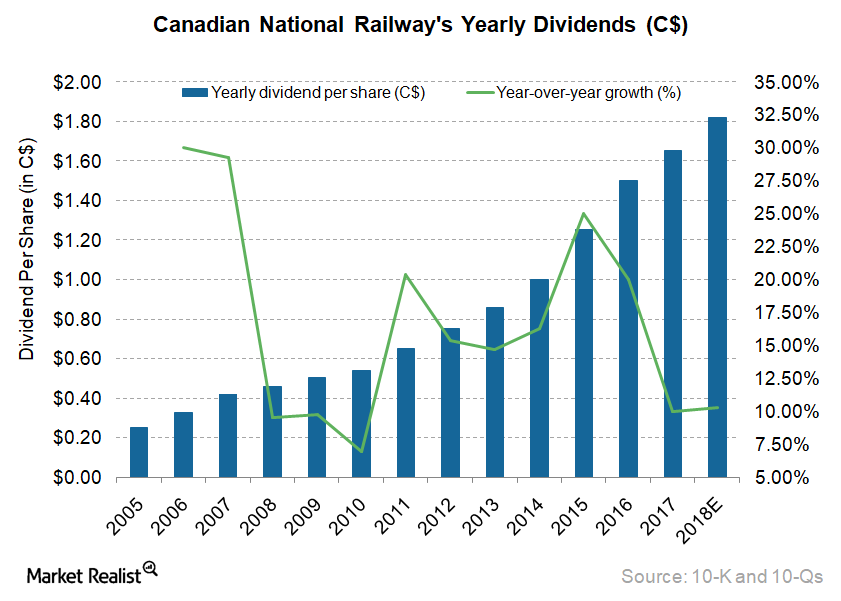 Inside Canadian National Railway's Dividends in 2018
By Samuel Prince

Mar. 28 2018, Updated 10:39 p.m. ET
CNI's cash dividends
Canadian National Railway (CNI) has a rail network of ~20,000 route-miles spanning Canada and mid-America. The Montreal-headquartered company is the only transcontinental railroad in North America. On January 23, 2018, Canadian National Railway (CNI) announced a 10.0% increase in its 2018 dividend. 
CNI's quarterly cash dividend on its common stock was increased from 0.4125 Canadian dollars to 0.455 Canadian dollars in 1Q18. In early 2017, the company declared a 10.0% increase in its quarterly cash dividend per share. With the January 2018 increase, CNI's annualized dividend per share stands at 1.82 Canadian dollars.
The chart above indicates that Canadian National Railway has consistently raised its annual dividends over the last 17 years. Since 2011, the company's annual dividend growth was consistently in double digits. 
During the financial crisis, CNI was able to maintain its yearly dividend growth rate. Based on its adjusted diluted EPS of 4.99 Canadian dollars in 2017, the company's dividend payout ratio stood at 33.0%.
Article continues below advertisement
CNI's free cash flows
A company's free cash flows (or FCF) levels depend on its operating cash flows and capital expenditure. If operating cash flows go up and capital expenditure comes down, it leads to higher FCFs. 
In the five years that ended December 2017, Canadian National Railway's operating cash flows have almost doubled. At the same time, its capex rose ~60.0% during that period. However, its operating cash flows are expected to grow 3.6% in 2018 compared with 2017.
Among all the US Class I railroads, CNI has announced the highest rise in its 2018 capex. Compared with the company, its rival Canadian Pacific Railway (CP) has estimated a slight rise or the same levels of capex in 2018 compared with 2017. 
For the current year, CNI anticipates spending 3.1 billion Canadian dollars. On a YoY (year-over-year) basis, it translates into 16.7% growth. As a result, CNI's free cash flows are expected to decline from 2.8 billion Canadian dollars in 2017 to 2.5 billion Canadian dollars in 2018. Considering all these factors, it's unlikely that Canadian National Railway would increase its dividend further in 2018.
ETF discussion
Investors looking for regular income may consider the Vanguard Industrials ETF (VIS). Major industrial giants paying regular dividends such as Boeing (BA) (6.33%), 3M Company (MMM) (4.41%), and General Electric (GE) (3.84%) are included in VIS's holdings.
Further dividend increases by the US Class I railroads depend on their top-line growth and operating performance. Except for CNI, capex levels aren't expected to go up significantly in 2018. This should push up the free cash flows and in turn, pave the way for dividend increases in 2H18.